Posted on
Yellow Jackets Knock Off Glendive Team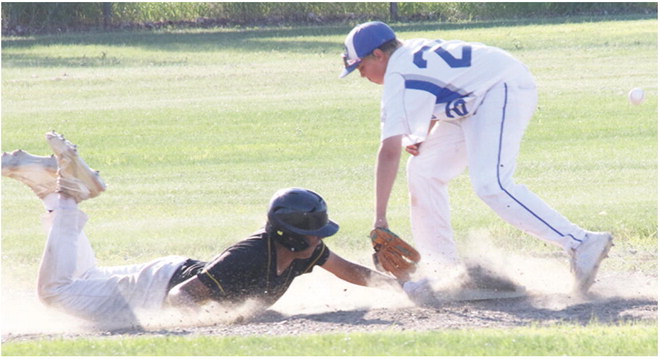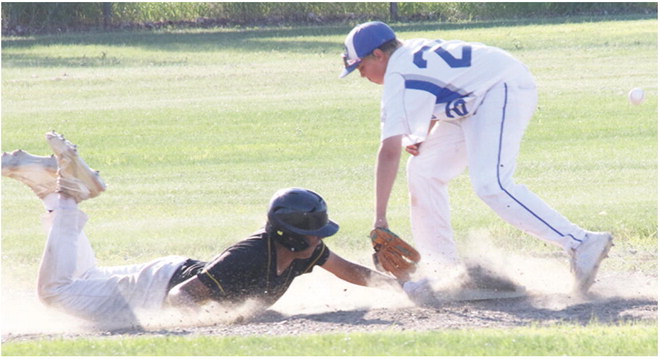 The Wolf Point Yellow Jackets ended their home season with a double-header baseball sweep over Glendive's B team on Wednesday, July 13.
A four-run fifth inning helped Wolf Point downed Glendive by a 13-10 margin in the first game.
The contest was deadlocked at 1-1 until the Yellow Jackets exploded for seven runs in the bottom of the third inning. After Logan Brown and Trevin Boysun scored on wild pitches, Griffith Azure had a hit and later scored on an error.
Andrew Dschaak and Mitchell Brown each walked and went on to cross the plate. After Landon Young tallied a run, Preston Swenson came home on a wild pitch.
The Blue Devils, however, responded with seven runs in the top of the fourth for an 8-8 deadlock.
Boysun reached on a hit by pitch and later scored on a grounder by M. Brown for a 9-8 lead in the bottom of the fourth.
Wolf Point held Glendive scoreless in the top of the fifth as second baseman Page caught a line drive and threw the ball to first for a double play.
The Yellow Jackets gained a 13-8 lead with four runs in the bottom of the fifth. Swenson doubled and went on to score for the inning's first run. Kelby Bauer, Logan Brown and Azure later scored on errors.
Glendive accounted for two runs in the top of the seventh for the 13-10 final.
Page pitched the first three innings and Boysun pitched the final four frames in the victory.
In the nightcap, the Yellow Jackets came from behind to earn a 9-5 win.
L. Brown connected for double and then scored on a single by Boysun in the bottom of the fourth to pull the Yellow Jackets to 4-3.
Boysun then crossed the plate on an infield hit by Payton LaRoche. An infield hit by Landon Young allowed LaRoche to score for a 5-4 advantage.
Page knocked in Young with a single and then Swenson scored on an error. A single by L. Brown scored Page and Dschaak for a 9-4 lead.
Glendive scored a run in the fifth for the 9-5 final margin.
Wolf Point's Swenson pitched the distance for the victory.

BoysunTrevin Boysun delivers a pitch during the first game against Glendive on Wednesday,July 13.(Photo by Bill Vander Weele)


DschaakWolf Point's Andrew Dschaak happily crosses the plate on a wild pitch against Glendiveduring one of the home victories.(Photo by Bill Vander Weele)