Posted on
Amanda BullChief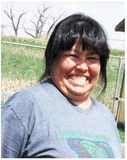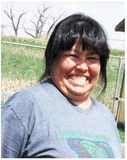 Amanda Red Eagle Bull-Chief, 53, of Poplar died July 12, 2022, at Billings Clinic.
She was born Oct. 23, 1968, in Poplar to Beverly "Baby Lou" Red Eagle. She grew up in Poplar and was raised by her mom and stepdad, Raymond "Bud" Good Bird.
She met Marvin BullChief in 1997 and they married on Feb. 7, 1998. Together they raised their eight children, Miranda, Renae, Kyleen, Kyle, Darris, Jason, Brad and Quentin. On Aug. 20, 2002 she became a grandmother. Jacora Youngman was born and, together with Marvin, they raised her as their own, along with Daralyn and Jathan.
Throughout the years, she held various jobs. Her favorite was being a homemaker and grandmother. She loved all her grandchildren very much, taking in nine more to raise. She was a very kind-hearted person who would help out in any way she could.
Her hobbies included playing bingo, keno machines, listening to music and traveling to all local area powwows with Marvin and her family. She enjoyed visiting her family and friends, always making the time to sit and listen to any of her sisters when they needed her. She also enjoyed attending all of her grandchildren's school functions, their sports activities and games, a concert or classroom projects.
She was preceded in death by her brother, Raymond "Dean" Good Bird; daughter, Kyleen "Koosh" BullChief; son, Bradley BullChief; and husband, Marvin BullChief.
Survivors include her children, Miranda, Kyle, Darris, Renae, Jason and Quentin; grandchildren whom she was raising, Jacora Youngman, Daralyn BullChief, Jathan Red Eagle, Jacoven Youngman, Jameryn Limberhand, Anissa, Ashlyn, Pearl, Jayden and Jocelyn BullChief, Raylando, DaShawn and Dreyton Red Eagle; numerous other grandchildren; sisters, Mary Plante, Carole, Kathy, DeeDee, Glenna and Leanne Red Eagle, Maureen Dionne, Mazie Ogle Youngbird and Susie Jones; brothers, Brian Jones, Gerred Red Eagle and Raymond "Abby" Ogle; and adopted daughter, Jenn Red Thunder.
Funeral services were held on Wednesday, July 20, at 11 a.m. at the Poplar Cultural Center. Interment followed at St. Joseph Catholic Cemetery in Frazer. Clayton Stevenson Memorial Chapel was entrusted with arrangements.