Posted on
Jayden White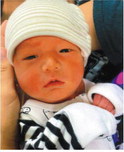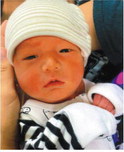 Jayden Allen White "Baby J", died on the evening of June 28, 2022, in Wolf Point.
He was born June 19, 2022, in Wolf Point. He was the first child of Jaycee White and Mackiera Schindler.
Within the first day he was born, he was already opening his small dark brown eyes and trying to grab things with his tiny hands. He only lived for nine days and only met some of his family members.
He liked many things, like being in the sun, smacking his lips when he was hungry, playing with his hands, having attention when he was awake and sleeping a lot. He also like being swaddled and listening to calming music.
He loved being out on the balcony and going for car rides. He loved being held and rocked when he was asleep.
He is survived by his parents, Mackiera Schindler and Jaycee White; grandparents, Patrick and LeAndra Gustafson,