Posted on
Fort Union's Fred MacVaugh Heads To Effigy Mounds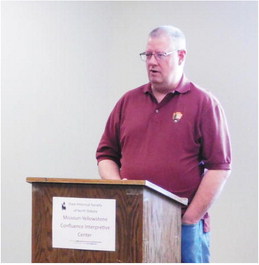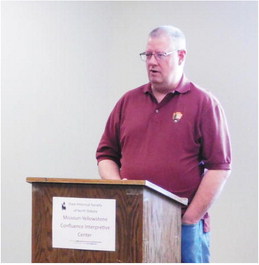 Fort Union Trading Post National Historic Site museum coordinator Fred MacVaugh is taking a new position at Effigy Mounds National Monument in Harpers Ferry, Iowa. He will be starting as the new interpretation and education manager at the site at the end of August.
MacVaugh has been with the parks service at Fort Union since taking a full time position there in 2014. Prior to that, he worked in a seasonal capacity at both Fort Union and Agate Fossil Beds National Monument in Harrison, Neb.
MacVaugh said Fort Union is a special place with national historical significance, not all of it positive.
"As a trading post and a place of business," said MacVaugh, "the American Fur Company was responsible for introducing small pox to the upper Missouri."
MacVaugh said the contagion was introduced via steamboat in 1837, decimating the local population, forcing a restructuring of area tribal groups and opening the region to western expansion.
"Efforts were made at containment and limited inoculations were offered, but they were ineffective," said MacVaugh. He drew connections to unfocused efforts at containment during the current pandemic.
MacVaugh said Fort Union exemplifies the impacts of steamboat traffic on the region, as well as the interactive nature of relations between Native groups and traders. In particular, MacVaugh cited Alexander Culbertson's efforts to alert area tribes to the Fort Laramie Treaty negotiations in 1868.
Fort Union was significant as magnet and hub for artists and scientists of the period, including greats like painter George Catlin, Prince Maximilian of Wied, Karl Bodmer and John James Audubon. MacVaugh said he wasn't overly familiar with the site prior to joining the parks team. "I didn't know how significant it was," he said.
He said he was grateful for the opportunity to learn about the site. MacVaugh was born and raised in the Philadelphia area and said he found many connections with Pennsylvania.
Asked what he'll miss most about the area, MacVaugh plugged Books On Broadway in Williston, ND, where he has worked since 2016. "It has been a lifelong dream to work in a bookstore," he said.
Moving forward, MacVaugh said he is excited to take on a new position and a new role in Harpers Ferry.
"I'm looking forward to building up the program with tribal partners in the region," he said, adding that he hoped to make history and cultural preservation more inclusive.
MacVaugh will be on duty at Fort Union through July and working his regular shifts at the bookstore until the second week in August. He can be reached at Fort Union at 701-572-1029 ext. 212.
For more information about Books On Broadway, visit booksonbroadwaywilliston. com or call 701-572-1433.