Posted on
MC Nutrition Provides Healthy Options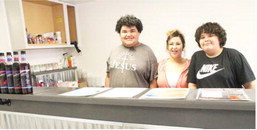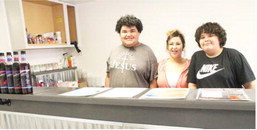 MC Nutrition opened on Thursday, June 16, in Wolf Point with the goal of providing healthy choices for area residents.
"It's the community hub for people to come in and get something healthy," owner Miranda Crasco explained. "My passion is providing healthy options for the community."
The business is located at 218 Third Ave. Suite C, across from the Wolf Point Credit Union. Operating hours are 8 a.m. to 4 p.m. on weekdays.
Crasco said the grand opening will occur during Stampede weekend.
MC Nutrition offers clean energy teas and healthy snacks. Crasco noted that everything is diabetic friendly and that the shakes provide a complete, balanced meal.
Shake flavors include blueberry muffin, lemon poundcake, cinnamon roll, fruity pebbles, berry cheesecake, apple pie, Oreo, jave chip and fudge brownie batter.
Energy teas are called Blessed be the fruit, Some beach, Ocean water, Pica sandia, The Aquarius, The Pisces, the Aries and The Gemini. Tea bombs are Bad and Bojuee, Skittles, Some beach, Shark bite, Hawaiian, Mexican candy, Aquaman and Green Gusher.
"Everything is natural," Crasco said. "It's clean energy. Not jitters, no crash. It's great energy through the whole day."
On Tuesdays and Fridays, protein doughnuts are available.
"It's the perfect protein snack," Crasco said of the doughnuts. "You definitely getting everything you need with the products I'm selling."
She noted that she's been a wellness coach and distributor for Herbalife Nutrition for the last five years.
"To me, it was a need that I saw," Crasco said. "The nutrition club just fits perfectly for me."
She hopes to have enough success so she can explain throughout the Fort Peck Reservation and Hi-line.