Posted on
Frazer Celebration Sees Increased Attendance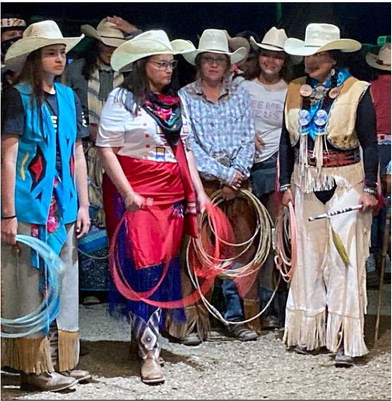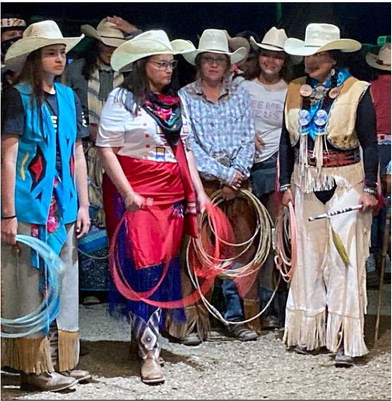 A Red Bottom Celebration Committee spokesperson told the Northern Plains
Independent that the 2022 event featured dancers from Alaska to New Mexico.
Attendance was up from last year with over 200 registered dancers and nine drum groups from Montana, North Dakota and Saskatchewan. Dance contests were featured daily June 17-19.
Don LaRogue worked at the committee's Pepsi stand.
"This weekend was the best we've had in years," said LaRogue. "There were no problems with the people in general. It was a very good family powwow, something I haven't experienced in years, Congratulations to the committee for a job well done and the dancers and drums who attended."
In the Golden Age Men's category, Jonathan Windy Boy of Rocky Boy placed first, followed by Cody Eagleman and Jeff Downing.
Gracie Her Many Horses won the Golden Age Women's category, followed by Thomasina Mountain Sheep and Luann Kicking Woman. Malcolm Murphy of Window Rock, Ariz., won Men's Traditional, followed by Richard Street and Wayan Bear of Brockton.
Men's Grass saw Kyle Mountain Sheep on top, followed by Kelsey Haywahe and Timothy Parker.
Walter Runs Above won Men's Fancy. He was followed by Cactus Runs Above and Trevor Yuzicappi.
Women's Traditional saw Lonna Street of Spirit Lake, N.D., in front, with Ernestine Crooked Neck and Sweet Medicine Finley in second and third respectively.
Adrianna Douglas won Women's Jingle, followed by Prairie Rose Jack and Kelly Messerly of Harlem.
Karen Noon won Women's Fancy, with Sky Harding in second and Tatayana Brown in third.
Poplar's Ronald Fast Horse won Teen Boys' Grass, followed by Nadden Spotted Wolf and Arden Spotted Elk, both of Poplar.
Wolf Point's Koda Fancy Feet Figueroa won Teen Boys' Fancy.
Donna McKay won Teen Girls' Traditional, followed by Tyree Ridge Bear and Poplar's Kahloni Hoops of Poplar.
Tahnee Thunderchild and Courtney Spotted Wolf of Poplar placed second and third in Teen Girls' Jingle, following Kaliah Eagle who placed first.
Brockton's Colton Roberts won Junior Boys' Traditional, followed by Julian Rider and Chayda Stead of Fort Belknap.
Avery Mountain Sheep won Junior Boys' Grass, followed by Lynn Bets His Medicine of Fort Kipp and Quade Boyd of Brockton.
Poplar's Eliana Young won Junior Girls' Traditional, followed by Madalyn Spotted Wolf and Miley Crawford, both of Wolf Point.
Lilianna Long Knife of Fort Belknap took first in Junior Girls' Jingle over Poplar's Jenaeya Moran of Poplar and Lila Croocked Neck.
Delori Ridge Bear won fist in Junior Girls' Fancy, followed by Kimi Stead and Aaliaya Roberts.
Brockton's Wambidi Yellowhammer won Men's Cowboy Special. Adrianna Douglas of Six Nations, Ont., Canada, won the Women's Cowboy Special, followed by Poplar's Courtney Spotted Wolf of Poplar.
Michael Murphy of Window Rock, Ariz., won the Men's Traditional Special. Donald Whitehorse won the Veterans' Special.
Poplar's Fort Peck Sioux drum crew won the singing contest, followed by the Battle Crew, also of Poplar. The Roberts Crew won the threeman hand drum contest, followed by Walking Buffalo and the Thomas Denny Trio.