Posted on
Wolf Point Eighth Grade Students Promoted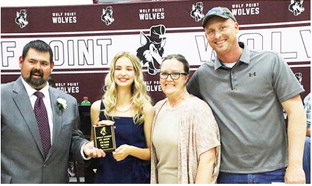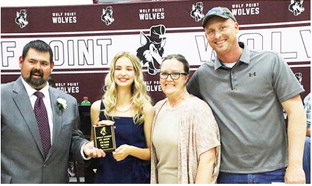 Wolf Point's eighth-grade promotion featured 47 students moving from the eighth grade to the high school on Tuesday, May 31.
Receiving the Outstanding Eighth Grade Student Awards were Richard Campbell III and Lauren Rodenberg.
Providing speeches at the ceremony were Lauren Rodenberg, Marley MacDonald, Kashlyn Speak Thunder, Gabriel Keiser and Richard Campbell.
The program included a presentation of tribal incentives. An honor song was performed by Donovan "Beefy" Archambeault and Nakoa Heavy Runner.
Students being promoted included Killian Bauer, Tavian Bell, Duran Big Leggins Jr., Samuel Boysun, Phelanee Brown, Stephen Brown, KayLeigh Bushman, Richard Campbell III, Julian Christian, Jeffrey Deserly, McKenzie Dionne, Madison Eder, Jesse Foote, Brady Four Bear, Aleecia Garfield, Eli Graham, Kalvin Grandchamp, Trina Grandchamp, Cante' Grey Bull, Sean Hamilton, Kevan Hentges, Xander Hoffman, Da'Shaun Jackson, Joshua Jackson Jr., Gabriel Keiser, Apollo Kirk, Stone Lilley, Marley Moran, Wyatt Martin-Martell, Kamilla Melbourne-Hines, Emily Nefzger, Wyatt Nelson, Karmyn Plain Feather, Jovi Redstone, Kasey Reed, Lauren Rodenberg, Curtis Schindler, Mackiera Schindler, Amerah Smith, Rilley Smith, Kashlyn Speak Thunder, Layla Vandall, Navella Weeks, Raine Wetsit, Joseph White Snow, Teagan Williams and Michael Youpee.