Posted on
Indians Advance To State Track Meet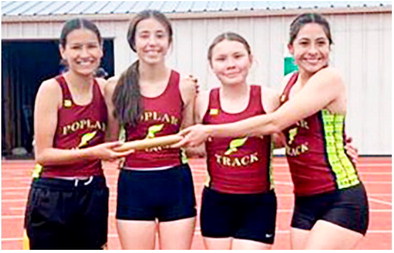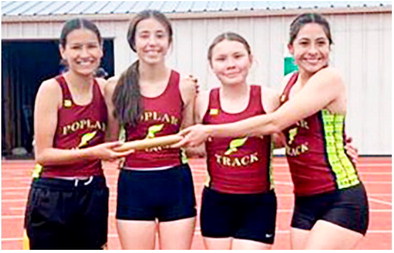 Poplar placed eighth in the girls' standings and ninth in the boys' standings during the North-East divisional track meet held in Great Falls on Saturday, May 21.
The Indians accounted for 25 points in the girls' division and eight points in the boys' division.
Poplar's girls 1600-meter relay team featuring Jazmyn CarryWater, Bailey Dupree, Jazmin Gorder and Reinita Irizarry finished in third place with a school-record time of 4:30.08.
Gorder, a senior, placed third in the 1600 at 5:41.78 and third in the 3200 at 12:14.95. She also qualified for state in the 800 with a fifth-place showing in the 800 at 2:31.80.
Dupree, a freshman, finished fourth in the 300-meter hurdles with a time of 52.15 seconds.
CarryWater earned sixth in the 3200 at 13:33.93.
Kaniel Ricker led Poplar's boys' team. The freshman earned third in the triple jump with a mark of 39-6 and fifth in the 300-meter hurdles with a time of 44.52 seconds. The Class B state meet starts on Friday, May 27, in Great Falls.