Posted on
Firefighters Make Sacrifices During Busy Spring Season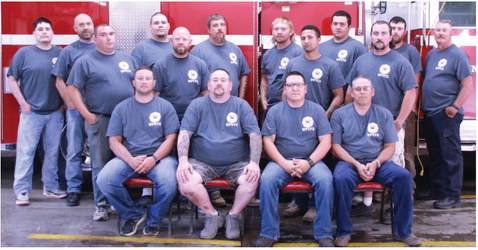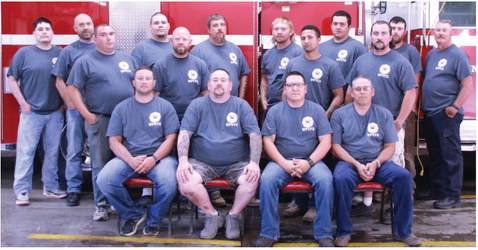 A group of Wolf Point men are getting accustomed to getting comfortable at home with their family for a meal or other relaxing activity, when the fire siren suddenly goes off and then are needing to respond to the emergency.
Wolf Point Fire Chief Clint Bushman said this spring has been one of the most active seasons in memory for local firefighters.
"Spring of 2018 was bad too," Bushman said. "We did get moisture later that year and that helped a lot."
Bushman admires the job and sacrifices that firefighters are making despite the constant calls.
"Fatigue is everywhere," Bushman noted. "People want to spend time with families in the spring time."
He added that the department features both young fathers and more experienced members who have new grandchildren.
"They make some very great sacrifices," Bushman said.
Also making sacrifices for the betterment of the community are employers who are willing to allow a worker to leave the office in order to serve with the fire department.
"Some business owners and managers let us go from work to a fire," Bushman said. "If they can't, it's fine. If they do, I'm extremely grateful."
He noted the fire department stresses the priorities of family, work and fire in that order.
"I drill that in everybody's heads," Bushman said.
Wolf Point's fire department currently features 17 members and another individual is on the waiting list.
"It would say it's pretty ideal," Bushman said of the number. "We're not short-handed."
The crew includes Mayor Chris Dschaak and Dave Parsley who have each served for close to 20 years.
Joe Reinhart, who served since 1998, recently retired.
"[Reinhart is] still only a phone call away to help us," Bushman said.
Bushman said there was probably more than a 10-year gap in experience to the next youngest member when he joined in 2011. Now, the department is much younger as a whole.
"There's definitely been an influx of wanting to be a volunteer by younger people," said Bushman, who has been chief since 2019. "It's good now."
The fire department is always willing to receive financial donations. Several local residents and businesses donated meals and refreshments already this year to provide sustenance to fatigued firefighters in the field during long call-outs. The department's largest fundraiser of the year, the Firemen's Ball, is scheduled for Oct. 2.