Posted on
Wolf Point Hosts "Babe Ruth" Tournament July 10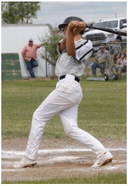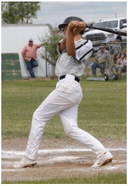 On Friday, July 10, Wolf Point hosted a baseball tournament for area "Babe Ruth" teams. Teams participating included Wolf Point, Froid, Glasgow and Plentywood.
The "Babe Ruth" league went forward this year locally after the national Babe Ruth League canceled the season due to COVID-19 concerns.
The first game was Wolf Point versus Plentywood. The action-packed game went into overtime with the teams tied at six points each. In the end, Wolf Point came out on top with the final score 8-6, sending Wolf Point to the championship game later that evening.
The next game had Glasgow and Froid facing off. Glasgow ended up on top with a final score of 21-11, which also sent them into the championship game.
The consolation round had Plentywood and Froid battling it out to see who would take third and fourth places. Plentywood came out on top with a final score of 14-7 in a seven-inning game, earning them third place. Froid took fourth.
The final game of the night was between opening round winners Wolf Point and Glasgow. It was a tough battle for Wolf Point, but Glasgow came out on top with a final score of 18-0. Glasgow claimed the first-place honors.