Posted on
Three Graduate From Froid Saturday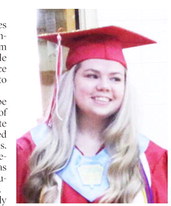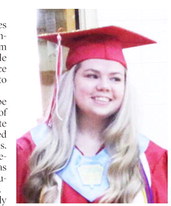 Community News Staff As the three soon-to-be graduates stood in the hallway just prior to entering the Froid High School gym for their graduation ceremony, Halle Vareberg was making some dance moves. She could be heard saying to her classmates, "I can't sit still."
Her excitement could certainly be understood. After all, the Class of 2020 was finally going to graduate two months later than scheduled because of Coronavirus restrictions. Following social distancing guidelines, the community of Froid was finally able to honor the three students on Saturday morning, July 11.
Sydney Labatte thanked family members, school staff, teachers, friends and the community during her salutatorian address.
Labatte, who will attend Williston State College and play basketball along with volleyball, thanked her family for pushing her to be her best, coaches for their encouragement and teachers for not giving up on her.
She noted that the three girls started together in first grade. Regarding the accomplishment of earning their high school diplomas, Labatte noted, "It's just a start to our future goals." She stressed to make the best out of situations, work hard for goals and not to take anything for granted.
Valedictorian Kassidy Kjos said that it was the first day that she truly feels like an adult. She noted that graduating high school was a goal since she was a little girl.
She asked, "Who do you want to be?" Kjos explained that she wanted to be a meteorologist since she was in the second grade. She will attend the University of North Dakota.
"Be the person you want to be," Kjos said. She thanked parents, friends, teachers and the community for their support.
Kim Hove of Froid school's office staff served as the guest speaker. She said the girls bribed her to be the speaker by coming to her with roses, a drink tumbler, a treat and a card in hand.
Hove noted how fast the time flies by while watching young students grow up. "How fast it goes." She said parents see their child go so quickly from snuggling up to watch cartoons into becoming adults. She said the best that parents can do now is pray, hope and pray that God will protect them as they go.
Hove said life has unexpected twists and turns. Trials can be part of life. "No matter what stage of your life you're at, be the best you can and find joy in your journey."
Everybody goes through tough times, but Hove said it's how you handle the different situations as far as you will feel at the end of the day. "There's always something to be thankful for," she said.
The Class of 2024 was congratulated for moving into the high school level. Members of the class include Jaeleigh Davidson, Mason Dethman, Solomon Grainger, Missouri Kalal, Cian Logan, Mason McKay, Kaylee Olson, Karli Parks, Nate Stentoft, Gunner Weaver and Joey Wise.