Posted on
Adrienne Jackson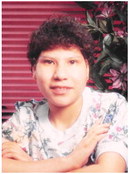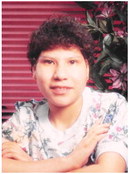 O bituaries Adrienne Jackson
Adrienne Rae "Annie" Jackson, 41, died July 4, 2020, in North Dakota.
She was born March 1, 1979, in Culbertson at Roosevelt Memorial Hospital to Donetta White Bear and Gerald 'Bootsie' Jackson. She spent most of her life living with her grandmother Mercy White Bear in Fort Kipp. From middle school all though high school, she attended Brockton School. She graduated in May 1998.
Having achieved many academic milestones in her lifetime, she also excelled in physical activities. She participated in the Special Olympics held in the spring of 1990. Being the star-runner for St. Joseph Catholic School, she was expected to take first in her category. However, at the beginning of the race, she noticed a classmate she had befriended preparing for the race. Being blind, he was given a rope to lead him along the route. Without hesitation, she took his hand and walked with him all the way to the finish line. She won much more than her category that day.
She really enjoyed movies and music, but she really enjoyed nesting, gathering all her magazines, pictures while listening to her favorite music and watching her favorite movies. Boxes of tapes and CDs could be found all around her when she was jamming. Being a huge fan of Mariah Carey, her room would always be filled with Mariah's music. Finally, after years of planning, she was able to see her 'hero' perform in Minneapolis, Minn., in March 2019.
She is survived by her mother, Donette White Bear of Fort Yates, N.D.; father, Gerald Jackson of Poplar; brothers, Jacob Two Shields of Bismarck, N.D., Ivan Whitford of Rocky Boy, Gerald Jackson Jr. of Wolf Point and Germaine Jackson of Poplar; sisters, Kelcie Two Shields of Fort Yates, N.D., and Leann Jackson of Helena.
A funeral service was held Friday, July 10, at the Clayton Stevenson Memorial Chapel in Wolf Point. Interment followed at Fort Kipp Cemetery. Clayton Stevenson Memorial Chapel was entrusted with the arrangements.