Posted on
Six Local Students Attend Ecology Trip To Yellowstone National Park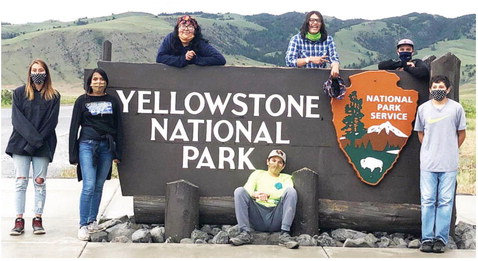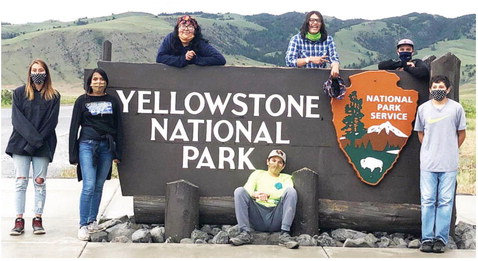 Six Wolf Point High School students attended this year's summer Ecology Project International Yellowstone trip June 29 through July 3.
Wolf Point students attending were Kholby Spotted Wolf, Danny Burshia, Alexis Baker, Cyntori Vallie, Iva Ricker and Nashon Red Dog. Vivian Schultz served as chaperone and driver for the group.
Schultz was instrumental in providing the students an opportunity to learn sciences in a hands-on approach, noted Wolf Point School District superintendent Loverty Erickson.
The students were involved in five action-packed days of activities, which included learning how to set up a tent, weed identification, cooking meals, bear safety, hiking to locate a lost bison collar, practice using the telemetry system (radio frequency) on the bison collars, wolf facts, a tour of the buffalo quarantine outside of the park (where the buffalo coming up to the Fort Peck Buffalo Ranch are monitored), community service activity, wildlife watching, learning the seven principles of "leave no trace" and much more.
The students met Monday, June 29, at 4 a.m. to meet the counselors outside Livingston, where they were briefed on the importance of following the COVID-19 guidelines for the duration of their time together. All students wore masks, sanitized their hands often as well as doing their best to maintain the 6' distance. They took a pre-test prior to beginning the course and ended the week presenting information on one of the subjects they learned for which they received a certificate for at the end.
"This program provided students with a unique experience that is unparalleled in my view and far different from a traditional classroom setting," said Schultz. "It was my first experience as well, and I was able to add an art element to many of the afternoon sessions. It would be wonderful to continue to support this outstanding outdoor course."
"Everyone involved was professional and supportive of the students learning more about the Yellowstone ecosystem," Schultz said. "It was important to the counselors that the students leave with a balanced view of how all living things work together to support one another in a wildlife setting [and] encouraged them to become involved in their communities and assist in a positive way to everyone around them."
The event was a success due to dedicated staff at the Wolf Point High School: Kim Hanks, High School principal; Cookie Ragland, Opportunity Learning Center teacher; Schultz, art reacher and bus driver; the Title VI Parent Committee: chair Rob Manning, vice chair Patricia Payne, board member Emily Hamilton and student advisor Tia Nygard. Carrie Manning provided COVID masks to the students prior to their departure. The gesture was thoughtful and all came home safely.
The district is looking for more students next summer to attend this once-in-a-lifetime chance. If you have a student in grades 9-12 who is interested in attending, contact Ragland for more information.