Posted on
Grand Reopening Deemed A Success At Froid's Lone Grocery Store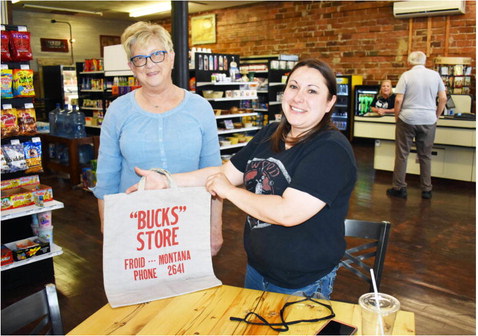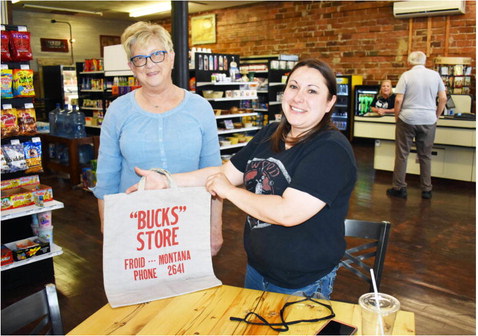 COVID-19 Sparks Transformation Of Froid Grocery
When the coronavirus hit Montana and non-essential businesses closed, Misty Williams, store owner of Froid Grocery, took the radical step of closing the front door of her "essential business," restricting it to phone and Facebook orders and curbside pickup.
Williams says, "When the virus hit, people were understandably reluctant to go out. The governor had shut the state and there was a virus case in town. So, we came up with a plan to minimize contact and protect both customers and employees."
Instead of perusing the aisles in person, customers "virtually shopped" by looking at photos of the shelves on the grocery's Facebook page. Williams says the results were astounding and orders increased fivefold.
In another bold move, Williams completely closed the store for three weeks for an update. Professionals and community volunteers worked to refinish the building's original wood floors and brick wall, update old walls, replace, paint and install new shelves, redecorate, and create an inviting new sit-down area for coffee, soda and snacks.
Since it began 1910, Froid's small farming/ranching community has seen businesses come and go. The first grocery, Perlin's Grocery, was built on Main Street in 1928 after fire destroyed the original 1911 building that in years passed had a hardware store, several bars, and pool halls. After Perlin's was sold to Buck and Irene Ryder in 1937, it was renamed Buck's Store. In 1977, Ron and Frances Hippe bought the store. However, in 1989, it closed and the town was without a grocery store.
In 1990, the Froid Community Corporation, with the backing of townspeople, stepped in to resurrect the store through fundraisers, grants and selling co-op shares.
Pat and Judy Waters, who managed the store, later bought it in 1993. In 2003, they sold it to Judy Smith. Williams bought the store from Smith in 2012.
As to why she decided to buy the store, Williams says, "I was working for Halliburton in Williston. I loved my job, but not the daily drive with stops in Trenton for my kids' childcare. I love working with people and wanted to keep the grocery going for the town."
When the virus struck, the store was at a tipping point. Online shopping and big box stores had cut into business. In addition, new realities of oil field workers leaving the area and senior citizens moving to retirement and nursing facilities hurt sales. Williams discussed the store's future with close friends.
She says, "As the virus took hold, sales increased and customers depended more on Froid Grocery. We learned more about their wants and needs and customized service accordingly. It pumped up my confidence and hope." At the store's grand reopening June 25, Williams estimated about 250 customers walked through the newly renovated store, exclaiming over the transformation and enjoying slush burgers on the house. Neighbors sat in the new coffee/ soda bar area, with its reclaimed barnwood top tables and counter crafted by local wood and metal artisan Dana Strandlund.
William's updates include a new fountain soda machine and Taco Thursday lunches that are attracting customers, including the train crew that travels through Froid weekly.
In August, when school restarts, Williams will change the store hours to open at 7:30 a.m., so school bus drivers can sit down with coffee and donuts.
Williams was thrilled with the response to the grand reopening.
"I loved seeing the looks on customers' faces and hearing their comments as they came through the store and saw the changes," she said.
Froid Mayor Sheri Crain says, "Misty and her staff are a wonderful asset and 'essential service' to our town in this crisis and in the years past. Froid Grocery is at the heart of our small town and supporting it is an essential part of keeping our community vibrant."
Froid Grocery is located at 107 E Main Street. Hours: 10 a.m. to 6 p.m. Fundraising efforts are still underway for ongoing improvements to the store. For more information, visit the group's Facebook page or call 406-766-2413.
Grand Reopening
Lynda LaBatte (left) and store owner Misty Williams show off grocery swag at the newly
remodeled grocery in Froid.
(Photo by Pattie Thompson)