Posted on
Eleven Bison Transferred To Tribes' Facility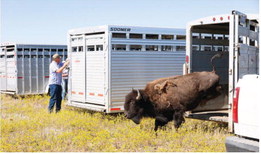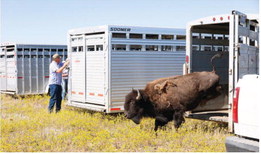 Eleven bison from Yellowstone National Park were transferred to the Fort Peck Reservation June 24. The transfer is the fourth shipment of the quarantined animals to the Fort Peck Assiniboine and Sioux Tribes facility. Defenders of Wildlife partnered with the Tribes to deliver the bison.
Former Fort Peck tribal chairman A.T. Stafne drove one of the trucks. Stafne made the original motion to move bison from Yellowstone to the reservation in 2012.
The transfer brings the cultural herd to capacity, 350 to 375 animals spread across 15,000 acres. Forty of the 55 bison transferred in August of 2019 will be ready to go to other tribes in the fall of this year. The Tribes have received 104 bison from Yellowstone facilities since 2019. Thirty- three cow/calf pairs moved to the Tribes facility in spring of last year are approximately halfway through the testing and quarantine process. They will also be available for transfer to other tribal facilities.