Posted on
Bainville Town Council Examines Budget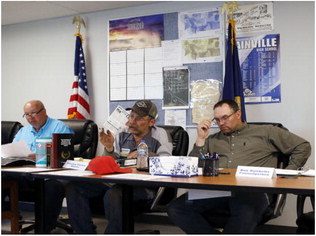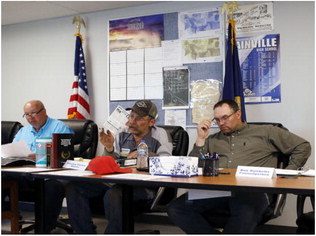 The Bainville Town Council held a special meeting Tuesday, June 23. Councilmen Ron Butikofer and Chuck Hyatt and mayor Dennis Portra were in attendance.
Following roll call and the approval of the agenda, the council held discussions about expenditure and revenue figures for the 2019-20 fiscal year.
Valli McCormick Hauge from Sidney Tax Service was brought in to help the council and town clerk/ treasurer Nikki Rogers understand discrepancies between projected and recorded budget figures. A budget workshop was undertaken. A new budget resolution is expected sometime in July.
Bainville Town Council
Bainville council member Chuck Hyatt (left-right), mayor Dennis Portra and council member Ron Butikofer attended a budget meeting June 23.
(Photo by James Walling)