Posted on
Lila Larsen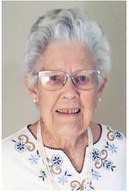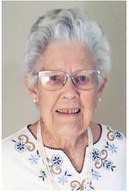 Lila Jean Larsen, 92, of Culbertson died Monday, Feb. 24, 2020, at the Roosevelt Medical Center in Culbertson.
She was born on Sept. 7, 1927, to Milton and Mildred Olson on the farm in Cartwright, N.D. She attended grade school in Cartwright and moved to Williston, N.D., with family friends for high school. She commuted via train crossing the Snowden Bridge to go home on weekends.
The next chapter of her life was as a switchboard operator in Culbertson, where she met Gene Larsen. They were married Oct. 1, 1950, in Cartwright and lived on their farm northeast of Culbertson their entire lives. Her next full-time job was raising their family, Steve, Darla and Tim. She had many volunteer positions including Sunday school superintendent at Ebenezer Lutheran for many years. She was an active member of the Merry Homemakers, leader with the Lucky 7 4-H Club, Cub Scout leader, member of the Soil Conservation Auxiliary and, in her spare time, was an excellent seamstress, knitter, crocheted and baker.
Her most treasured memory was a family cruise to Alaska with her children and their families to celebrate their 50th anniversary. Her love and devotion to her family was never ending and was now extended to great-grandchildren that found a place in her heart.
She and Gene spent over 30 years as snowbirds, taking up residence in Apache Junction, Ariz. These were truly their golden years together as they became shuffleboard pros and made many new friends in their winter residence. They looked forward to going south and reuniting with their snowbird family every winter. One of her proudest accomplishments was when she learned to swim at the age of 56.
She is survived by sons, Steve and Tim; daughter, Darla; and numerous grandchildren and great-grandchildren.
She was preceded in death by her husband, Gene; and brother, Milton Jr.
A memorial service will be held at 2 p.m. Saturday, June 27, at the Ebenezer Lutheran Church in McCabe. Pastor Gretchen Wagner will officiate. Friends may call at the church one hour prior to services. The service will be broadcast. Follow the link on Lila's service information on the Fulkerson Stevenson Funeral Home of Williston, N.D., website at www.fulkersons. com. Due to COVID-19, we ask that everyone adheres to local and state requirements for social distancing.