Posted on
Bulls See Baseball Action In Glendive, Miles City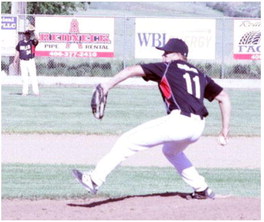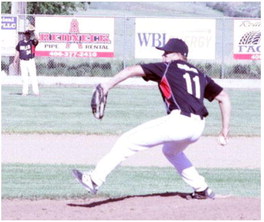 Community News Staff The Post 49 Bulls broke loose for six runs in the top of the seventh to come from behind for an 11-8 win in Glendive on Thursday, June 11.
Down by a 6-5 margin entering the seventh, Issac Johnson started the top of the seventh with a triple. A single by Colter Oie knocked Johnson home. A hit by Walker Ator brought Oie in for a 7-6 lead.
Cooper McNally connected with a single to score Dylan Tabbett and Walker Ator. Payton Hauge then came home on a sacrifice fly. A hit by Braeden Romo knocked in McNally for an 11-6 lead.
Glendive scored two runs in the bottom of the seventh, but Hauge got the last two batters out. McNally was the game's winning pitcher.
Ator led the Bulls with three hits. Johnson and Oie accounted for two hits and two runs batted in each. Johnson pitched the game's first five and two-third innings.
The Bulls gained a 3-0 lead in the first as Bode Miller, Johnson and Oie crossed the plate. The Bulls added two runs in the fourth when Jackson Oie and Johnson scored.
The Blue Devils battled back with two runs in the bottom of the fourth. Glendive struck for four runs in the bottom of the sixth to take a 6-5 advantage.
Glendive won the night's second game by a 13-3 final.
The Bulls led 3-1 until Glendive tallied three runs in the third, six in the fourth and three more in the fifth to win by the 10-run rule.
Having hits for the Bulls were C. Oie, Hauge and Romo. Scoring in the contest were C. Oie, Ator and J. Oie.
The Post #49 Bulls dropped a pair of games in Miles City against the Mavericks on Saturday, June 13. In the first game, Miles City captured a 14-2 victory.
The Bulls' runs came in the top of the first and top of the third innings. Miles City scored six in the second, six in the third and two in the fourth.
Bode Miller accounted for both of the Bulls' runs.
Having hits for the Bulls were B. Miller, Payton Hauge and Colt Miller.
Miles City won the second game by a 12-1 margin. The Mavericks scored four runs in each of the first three innings.
Jackson Oie scored the Bulls' run in the top of the third. Hauge had the team's only hit in the contest.
Payton Hauge
Colt Miller