Posted on
Marie "Doris" Kveseth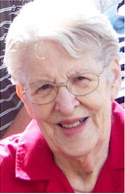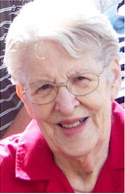 Marie "Doris" Kveseth, 91, passed away May 15, 2020.
Marie "Doris" Kveseth was born on June 6, 1928, in the Florence Crittenton Home in Helena, to Dorothy Dedic. Dorothy named her Leatrice. She was adopted by Christ and Elise Paulsen and raised in Dane Valley, north of Culbertson, with her older brother, Richard. She would wait until her parents passed and then search for her birth mother. She found Grandma and "Grandpa" Albert Dedic in Great Falls and went on to have a wonderful relationship with them for years.
Mom and Dad (Clayton) married in 1948 and set up a home in Froid. Mom worked hard all of her life, first as a homemaker with three small children.
When we moved to Wolf Point and all of us kids started school, she started her professional life. She worked as a florist at Wolf Point Floral and Gifts, as a secretary in the Clerk and Recorder's office and retired from the state as the secretary for the Roosevelt County Commissioners.
She was always busy — cooking, baking, sewing, crocheting and doing family research. She wrote a history of the Elton family and collected together three books full of Kveseth/Paulsen history. She loved to be busy and she was so creative. She still had unfinished projects at her death and one of the last conversations we had was about finishing the blankets for family before she left.
Mom is survived by her oldest son, Arthur (Delaina); her daughter, Leatrice (Anthony); and her very loved daughter-in-law, Corrine. Our little brother and Corrine's husband, Lorin, passed one and a half years ago. Daddy passed in 2010. Mom loved her grandchildren, Anthony Jr., Lorin, Chris, Talon, Griffen, Zen and Carlie. She had three great-grandchildren.
Michelotti-Sawyers is in charge of cremation. There will be a small family service at the end of May and she will be buried by Daddy and Grandma and Grandpa Paulsen in the Dane Valley Lutheran Church Cemetery at a future date.
We love you, Mom, and I remember … You want In the Garden sung at your service. I won't forget.
Condolences may be made at www.michelottisawyers. com.
(Paid Obituary)