Posted on
Yellow Jackets Moving Forward With Legion Practices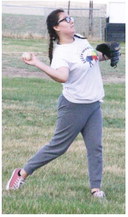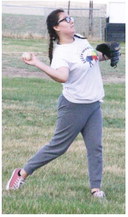 The Wolf Point Yellow Jackets American Legion Baseball team started practicing Monday, May 4 following a decision to move forward by the Wolf Point Baseball Association board Wednesday, April 29.
For the Babe Ruth League 'Jackets, a decision on whether to have the 2020 season is expected late this week following a meeting of Hi-Line Babe Ruth Baseball coaches and team administrators.
Legion Baseball is for players ages 15 to 18. Babe Ruth League players are 12 to 15. Some fall into a middle ground where they play on both teams.
The seasons have been in question due to the COVID-19 pandemic. Gov. Steve Bullock's announcement Wednesday, April 22, of a three-tiered plan to reopen Montana after several weeks of restrictions opened the door to allowing baseball to be played.
The Wolf Point Baseball Association, which governs Legion and Babe Ruth League locally, met during late April and decided to begin Legion practices this week with strict safety rules for social distancing and sanitation.
Thirteen returning and prospective players from Wolf Point, Poplar and Frazer attended the first practice on Burkie Field Monday, May 4. Some of them are younger and could play in the Babe Ruth League if it moves forward.
The 13 players practicing include Myklynn Lewis, 15, a Frazer High School student, who would be the first girl to play for the Yellow Jackets American Legion or Babe Ruth league programs. Lewis is eligible to play for both.
During early April, the American Legion left the door open for league play after suspending the Legion World Series and the eight regional tournaments. Legion Baseball in Montana held out for a possibility of at least some league play this summer.
It remained undetermined on May 4 how many northeastern Montana teams might play this summer. Scheduling decisions and dates remained uncertain. The season might start in late May.
The WPBA board of directors met Wednesday, April 29, to address safety issues including distancing, positioning of players in the field and sanitation.
Balls, bats and other equipment must be sanitized before and after games and practices.
Board member Mike Bushman said a document needed to be prepared that set rules and standards that comply with state and Roosevelt County health departments. It was developed and included:
•Screening for COVID-19 symptoms of players, coaches and volunteers prior to entering the playing field. Results must be logged.
•Hands must be sanitized.
•Equipment must be sanitized before games and practices.
•Six-foot social distancing and groups of fewer than 10-person activities are mandated.
•Players are requested to bring a cap, cleats, glove and towel to practices and games.
•Touching is not allowed.
Players not complying with social distancing requirements are subject to discipline.
"We have the blessing of the Roosevelt County Health Department," Bushman said.
"We are following guidelines that were put out by the governor," he said.
Bushman said each of the players should be asked how they are feeling before every game and practice.
"The kids have to understand," Bushman said. "Do we want to play baseball?"
Failure to comply with rules could result in players having to run to the fence and back after a first offense and being sent home after a second.
"We'll focus on small groups, small group instruction, small group coaching," WPBA vice president John Wetsit said.
He said in an ideal situation each player would own their own equipment.
Before the first practice, Bushman told players there is a new normal.
"We have a plan. The adults and everyone involved in this; we are going to be in
Myklynn Lewis
Myklynn Lewis, 15, a Frazer High School student, warms up during the first practice Monday, May 4. Lewis is the first girl to play American Legion or Babe Ruth League baseball for the Yellow Jackets programs.
(Photo by John Plestina) your business," he said.
Bushman told the players to not worry about game scheduling yet.
Aaron Snyder, a Poplar Middle School teacher and high school coach, is taking the helm has head coach with Ray Ostby and Anthony Red Cloud his assistants. Red Cloud will serve as head coach of the Babe Ruth Yellow Jackets if the program moves forward.
Snyder told the players before the practice there would be no tolerance for bully behavior.
"If you're a bully, this is not your team. I promise you," Snyder said.
Players warmed up with laps and playing catch 30 feet apart.