Posted on
All Roosevelt County COVID-19 Cases Have Recovered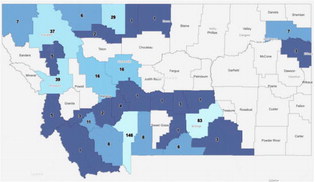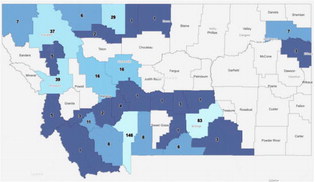 All seven of Roosevelt County's COVID-19 cases are listed as recovered, according to Patty Presser of the Roosevelt County Health Department.
Now in its second week, Phase One of Montana Governor Steve Bullock's plan to reopen Montana is under way. Restaurants, bars and casinos were allowed to open Monday, May 4, with reduced capacity to allow for appropriate social distancing.
For up-to-date information on COVID-19, go to dphhs.mt.gov.
Fort Peck Tribes
The Fort Peck Tribes have shortened the hours of curfew on the reservation so that it takes effect at midnight, rather than 10 p.m., and extends until 5 a.m.
Guidelines set in place by the Tribes will remain in place past the date for easing restrictions set down by Governor Bullock.
"We are staying closed tentatively until May 22," said Wallette. "All our tribal restrictions will be in place until then."
Wallette confirmed that curfew, shelter in place and state of emergency orders will remain in effect. Non-essential enrolled-member- owned businesses like casinos will remain closed. Wallette added that May 22 is a target date and may change.
Roosevelt County
All Roosevelt County buildings are open, with the exception of the detention center, which remains closed to visitors. Meals from aging services will continue being provided on a to-go basis until further notice. You must call your local center to reserve a meal. Call 406-653-6221 for more information.
Valley County
The Valley County Courthouse opened Monday, April 27. Conducting business by phone or mail when appropriate is greatly appreciated. The health department will continue operate by appointment only. The Senior Citizen Center will remain closed until further notice. Meals on Wheels continues to operate. Grab n' go meals are available on Tuesdays and Thursdays for 60+. Call 228-9500 by 9 a.m. to reserve a grab n go meal.
Confirmed COVID-19 Cases At presstime, there were 456 confirmed cases of COVID-19 in Montana, up just five from Tuesday, April 28. Of those cases, 410 are listed as recovered. There have been 62 total hospitalizations, with six hospitalizations listed as active. Sixteen people have died from the virus. Most are treating their symptoms at home. As of 10 a.m. Tuesday, May 5, a total of 15,272 tests had been completed.
In North Dakota, Williams County has reported 13 cases of COVID-19 on Tuesday morning, May 5. Mountrail County has reported 35 cases. Ward County has 25 reported cases. At presstime, there have been 1,266 cases reported in North Dakota, with 559 individuals listed as recovered. Ninety-five have required hospitalization with 31 currently hospitalized. Twenty-five deaths have been reported in North Dakota.
Phase 1 Information
Phase one begins at various times depending upon your industry, county and local jurisdictions.
Generally speaking, restaurants, bars, breweries distilleries and casinos were cleared to open May 4. Schools were able to open May 7 statewide, but area school districts are currently planning to remain closed through the end of the school year.
Businesses and operations must
COVID-19
Cases
The top map shows the total number of positive COVID-19 cases in each county in Montana, while the bottom map shows the known active cases as of presstime on Tuesday, May 5.
(Maps courtesy of Montana Department of Health and Human Services) take proactive measures to ensure compliance with social distancing requirements, including where possible: designating with signage, tape, or by other means sixfoot spacing for employees and customers in line to maintain appropriate distance; having hand sanitizer and sanitizing products readily available for employees and customers; implementing separate operating hours for elderly and vulnerable customers and posting online whether a facility is open and how best to reach the facility and continue services by phone or remotely.
People who feel sick should stay home and contact their health care provider for guidance. If you are experiencing the symptoms of COVID-19, you must follow your local health department guidance on isolation and quarantine.
Non-medical face coverings are not required but are strongly encouraged while in public, especially in circumstances that do not readily allow for appropriate physical distancing (grocery/retail stores, pharmacies, public transportation, etc.).
Day trips into Montana by non-residents for the purpose of essential activities such as medical appointments and purchasing food is allowed. Travelers should limit human interaction, use social distancing guidelines, and are not allowed to spend the night without triggering the start of their quarantine period, where these activities are prohibited.
Non-essential travel for non-residents into the state of Montana is not advised. All non-work travelers coming into Montana are required to quarantine for 14 days in Montana prior to participating in any non-essential activity.