Posted on
Freida MacDonald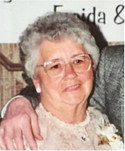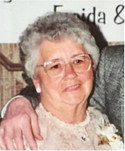 Freida Myra "Brookman" MacDonald, 93, died April 17, 2020.
She was the youngest of five children born to Clyde and Wavie Brookman. She attended country school and helped the family on the farm until she started high school at which she moved to town and worked at the Gambles store. Due to the Depression and being needed on the farm, she quit school and returned to the farm.
On a sunny summer day, George "Bud" MacDonald came riding up the ranch and their friendship flourished. After serving four years in the army during World War II, he returned and their life together started. They farmed and ranched north of Wolf Point for over 50 years.
She sold Stanley Home Products and cooked for the Roosevelt County Senior Citizens as well as at numerous restaurants. Many raved about her fried chicken and pies.
They raised five children: Grace Olson, Ruby Nygaard, Jim MacDonald, Alan Mac-Donald and Kay Buckles.
She was laid to rest beside her husband, Bud, at Greenwood Cemetary in Wolf Point on April 22. On their headstone, it reads, "They left this world knowing they were loved," which is so true in many ways.
She was preceded in death by her husband, Bud; and siblings, Marvin Brookman, Clarada Mann, Bruce Brookman and an infant sister, Peora Ardella.
She is survived by her children, 14 grandchildren and 22 great-grandchildren.
A memorial service will be held at a later date.