Posted on
April 19-25 Is National Volunteer Week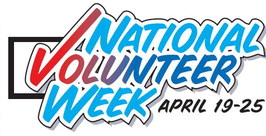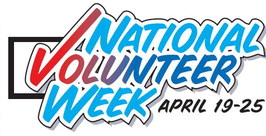 National Volunteer Week, celebrated April 19-25, is an opportunity to recognize the impact of volunteer service and the power of volunteers to tackle society's greatest challenges, to build stronger communities and be a force that transforms the world.
The theme this year is "Shining a light on the people and causes that inspire us to serve."
This week, we shine a light on the people and causes that inspire us to serve, recognizing and thanking volunteers who lend their time, talent and voice to make a difference in their communities.
National Volunteer Week, which was established in 1974, has grown exponentially each year with thousands of volunteer projects and special events scheduled throughout the week.
Today, as people strive to lead lives that reflect their values, the expression of civic life has evolved. Whether online, at the office or the local food bank; whether with a vote, a voice, or a wallet — doing good comes in many forms, and all should be celebrated.
Wolf Point and Roosevelt County have numerous service organizations that each play an important role in making our communities better — from the Optimist Club of Wolf Point to the A.F. & A.M of Montana Loyalty Lodge #121 to the Wolf Point Elks Lodge #1764 to the Wolf Point and Culbertson Lions Clubs to the Culbertson Women's Club to Hearts of Hope and Bigger Sky Kids in Wolf Point.
Men and women from across our area answer the call of the siren as members of volunteer fire departments, whether it be to put out a fire or to assist at an accident scene.
Outdoor and wildlife conservation groups, such as the Walleyes Unlimited, Ducks Unlimited and Pheasants Forever, all play an important part of preserving our outdoor resources.
Chambers of commerce in our area's communities organize events to entertain residents and attract tourists.
Wolf Point Pound Puppies helps find homes for stray dogs and cats, as well as providing free and low-cost spay and neuter clinics to help with the number of unwanted dogs and cats.
Countless churches are filled with volunteers that gather together for a variety of needs.
During this pandemic, area seamstresses have even volunteered to make cloth masks for area hospitals and nursing homes.
Our area's youth volunteer through a variety of youth groups, both at churches and schools across our area.
Numerous adults provide mentoring to area youth through numerous church, scouting programs and 4-H as leaders and program volunteers.
So many people in our area make a difference every day in many ways. Volunteers truly make the world go round. Thank you, volunteers, for all that you do.