Posted on
Wix Named RMC Employee Of The Quarter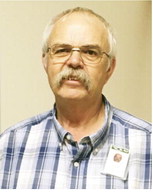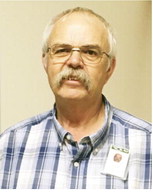 If you ask Jim Wix, he'll tell you he isn't much of a talker. However, when it came to deciding Employee of the Quarter for Roosevelt Medical Center, actions definitely spoke louder than words.
"I'm shocked they picked me," he commented. "I just come to work to do my job, smile and hopefully make the day better for those around me. I think we are all here to make everything about RMC the very best it can be for the patients and residents," he added. For nearly three years, Wix has worked in the maintenance department at RMC. He's often spotted in the hallways sweeping and buffing floors. He assists with the upkeep of the interior of the facility as well as the outside grounds. In the winter, he removes snow. In the summer, he keeps the lawns looking nice.
He helps with larger projects, too. His most recent included completion of the remodeling for the new CT suite. He assisted with installing the lead-lined sheet rock and doors as well as the ceiling and floors.
"While I have been able to use a lot of my carpentry skills, I've also continued to learn a lot along the way. Healthcare facilities require following many different regulations and it has taught me that you are never to old to learn new ways of doing things," Wix said.
When staff levels have fluctuated in the environmental services department, Wix has always been willing to pick up extra duties to ensure every waste-bin was emptied and every room was cleaned and sanitized. In a facility where people are often moving in and out, Wix also helps with moving patients around to different rooms.
"Jim is a team player who is always willing to be flexible and change course during the day if something comes up. He never hesitates to stop what he is doing to be helpful to someone else," said Jeff Haus, maintenance supervisor.
Selection is determined through a random group of staff, board and community members. The nominee to receive the most votes is selected. This quarter, a total of four employees were nominated. The next quarter's selection will made in early July.