Posted on
Roosevelt County Sees Two Additional COVID-19 Cases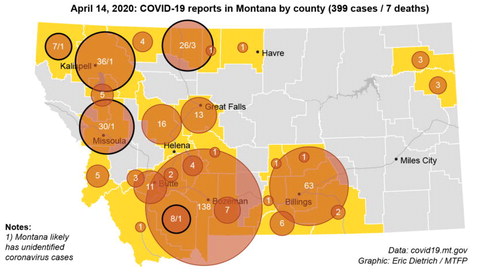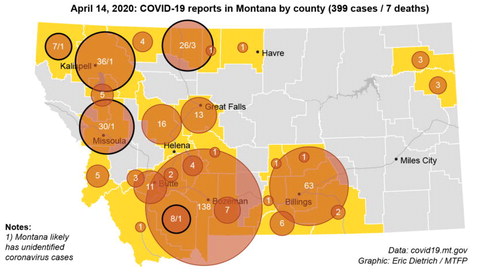 Roosevelt County recorded its second and third positive cases of COVID-19 last week.
The Roosevelt County Health Department received news of the second positive case Wednesday, April 8. A female aged 40-49 had tested positive, but was not hospitalized. The health department was notified of the third positive case, a female in her 20s who is also not hospitalized, on April 10.
The first case in Roosevelt County was a woman aged 70-79, reported as testing positive on March 19.
The case investigation for the second and third cases is ongoing, according to Patty Presser at the Roosevelt County Health Department.
In accordance with federal law, the department will not release any other identifying information about the cases to protect the individuals' personal privacy, Presser said.
The Roosevelt County Health Department will be working with these individuals to identify close contacts. Anyone who is a direct contact will receive a phone call from the Roosevelt County Health Department with instructions on how to proceed. Only those people who meet the definition of a "close contact" will receive calls.
It is important that people who are not named as close contacts and aren't sick not go to the clinic or hospital seeking coronavirus testing, said Presser.
"All of the preventative measures put in place over the past weeks take on new importance now that we know COVID019 is in our community," said Presser. "It is extremely important for all Roosevelt County residents to follow recommendations from the health department and the governor to stay home as much as possible and avoid contact with others outside of the home, especially if you are not feeling well. This includes non-essential travel outside of Roosevelt County."
NEMHS
Northeast Montana Health Services CEO Peg Norgaard confirmed Tuesday, April 14, that two employees at Riverside Family Clinic in Poplar tested positive for COVID-19 — one from Roosevelt County and one from Richland County. Both are quarantined at home for 14 days.
She said that three others had been tested and placed on a 14-day quarantine. Two tests have come back negative and the third one is still pending, Norgaard said.
After the quarantine period has passed and employees are ready to come back to work, they must have two consecutive negative tests 24 hours apart and be symptom free before returning to NEMHS. All NEMHS facilities are on lockdown and non-emergent procedures have been postponed. Temperatures are checked for everyone entering or leaving the facilities.
Riverside Family Clinic continues to see patients, as does Listerud Rural Health Clinic in Wolf Point. Providers are seeing patients in the clinics as well as by utilizing telemed options, such as phone calls and Zoom.
Norgaard said it was great to see how everyone jumped in and did what needed to be done when they received positive tests.
As of Tuesday, April 14, NEMHS had conducted 58 tests. Of those, two were positive with four still pending.
Norgaard said that NEMHS staff meet daily to discuss the situation and are also actively participating in the county's emergency unified command meetings weekly.
Unified Command Task Force
The Fort Peck Tribes, Roosevelt County, Indian Health Service, all local hospitals and emergency services have joined forces to establish the Fort Peck Tribes, Roosevelt County and IHS COVID-19 Unified Command Task Force. Along with these jurisdictions and organizations many other tribal, county, state and federal entities are involved. The initial meeting and establishment of the Task Force was on Tuesday April 7. The command team is comprised of Fort Peck Tribal Chairman Floyd Azure, Shannon Hopkins, Fort Peck Tribal Health Officer, Roosevelt County Commissioners Gary Macdonald and Gordon Oelkers, NEMHS Dr. Mark Zilkoski and CEO Peg Norgaard, Steve Harada and Dennis Four Bear, IHS. Also within the command staff are Lind- sey McNabb, safety officer, Lee Allmer, public information officer and Wolf Point Mayor Chris Dschaak, liaison officer.
The Task Force has met twice so far and is working to develop objectives to combat our invisible enemy in a collaborative team effort. Meetings will proceed on a weekly basis, starting Wednesday. All residents are reminded to follow the stay at home orders, practice social distancing, don't gather in groups, wash your hands, wear a cotton mask when going for essential goods in the public and avoid non-essential travel. If you travel from out of the area you should self-quarantine for 14 days.
Confirmed COVID-19 Cases
At presstime, there were 399 confirmed cases of COVID-19 in Montana and 50 total hospitalizations, with 24 hospitalizations listed as active. Seven people have died from the virus. Most are treating their symptoms at home. One hundred ninety-seven cases have been classified as recovered. As of 10 a.m. Tuesday, April 14, a total of 9,234 tests had been completed.
Williams County in North Dakota has reported 8 cases of COVID-19 on Tuesday morning, April 14. Mountrail County has reported 27 cases. Ward County has 20 reported cases. At presstime, there have been 341 cases reported in North Dakota, with 138 individuals listed as recovered and 13 currently hospitalized.
Richland County
The Richland County Health Department was notified, as of Tuesday, April 14, that there have been three total cases in the county, with no new cases listed.
Mental Health Resources
Eastern Montana Community Mental Health Center wants everyone to know that they are available for any mental health or substance abuse issues an individual may be dealing with. The phone number is 228-9349 and it is answered 24-hours a day. The Montana WARMLINE is 877-688-3377 from 8 a.m. to 9 p.m. Monday–Friday and noon to 9 p.m. on Saturday and Sunday. The WARMLINE is a free, confidential service staffed by individuals with experience who understand the behavioral health needs of individuals. This service provides early crisis intervention. This is NOT a crisis line. Responders will refer people who are in crisis to appropriate services. The Montana Suicide Prevention Lifeline at 800-273-TALK (8255) is also available. The Lifeline provides 24/7 free and confidential support for people in distress. The Montana Crisis TEXT Line, which can be accessed by texting "MT" to 741741, is available as well. When a person texts the TEXT Line, a counselor responds within minutes and is available for any behavioral health crisis.