Posted on
Alexander Trottier Jr.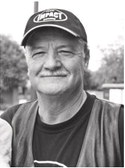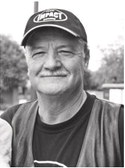 Alexander "Porky" Joseph Trottier Jr., 68, of Grand Junction, Colo., died Sunday, April 5, 2020, in a motorcycle accident.
He was born Jan. 24, 1952, in Belcourt, N.D., to Alexander "Buddy" and Elizabeth "Betty" Trottier. Part of a big family, he was the fourth of 10 children. At the age of 12, he moved to Poplar. He was an enrolled member of the Sioux and Assiniboine Tribes. His Native American heritage was an important part of his life.
If you sat down with him, he would tell stories of his younger days that would exceed the limits of most men. His stories would have you on the edge of your seat and laughing uncontrollably.
He was a man of the land and loved the outdoors. Boxing, hunting, trapping, fishing, baseball, softball and motorcycles were a few of his many passions. Whatever he was doing he did at 100 percent. Leading with his heart, Alex had his own set of laws and lived his life accordingly. He was known to live his live full throttle and push the limits.
He gave nicknames to everyone he knew. The nicknames would come on the fly when the opportunity presented itself. If you know the Trottiers, most are known by their nicknames and there's a story behind each one of them.
Growing up, he learned to stand on his own two feet and take care of others. He would utilize the land to provide for himself and those he loved. His experiences developed a level of street smarts that would allow him to thrive in any situation. Graduating from the School of Hard Knocks, he learned valuable lessons and made sure his loved ones would never go without. Later in life, he earned his GED. As a young man, he joined the United States Navy, where he would serve his country honorably. As a boxer, he was undefeated while fighting for the Navy. After he was honorably discharged, he would return to Poplar, where he continued his boxing career.
Considered a Robin Hood of the people, he was a hardworking man that would help anyone in need. He wanted to make sure that everyone in his tribe was taken care of and he would do anything for them. He had many jobs that included farming, construction, oil and gas, maintenance mechanic and self-employment. His tireless work ethic was second to none and he always took pride in getting the job done regardless the task.
In Poplar, he had his first son, Barry, with his former wife, Robin Mason. Later, he would meet Lisa Trottier and they would spend 42 years together. They had three children together, Alexander III "Bunky," Texas and Reanna.
In 1982, he became the head coach of the Fort Peck Boxing Club, which became the beginning of a coaching career that would influence hearts and touch the lives of countless people down the road. With an open-heart he would give anyone who walked through the door a chance.
In 1993, the family made their home in Grand Junction, Colo. For the last 23 years, he worked at Colorado Egg as a maintenance mechanic.
With the love of boxing and the interest of their sons, he began Impact Boxing in 2000 with the help of Brett and Brook Blaney. Impact Boxing grew into a family of fighters. Coaching his son Bunky, he would build a legacy as a coach and mentor that would influence all walks of life that came into his gym. His countless hours and dedication to his fighters would build tough, strong and successful young men.
His contributions to the community of boxers, love for the kids and his countless hours of dedication led him to be honored as the Grand Junction Kiwanis Club Citizen of the Year in 2006.
As a man of faith and family he was an active member of Monument Baptist Church. His relationship with the Lord would frame the rest of his life.
He is survived by mother, Elizabeth "Betty" Marsh; father and mother-in-law, Lyle and Beverly Van Dover; wife, Lisa Trottier; children, Barry Trottier, Belle Atkinson, Alexander III "Bunky" Trottier, Texas Trottier and Reanna Amidei; numerous grandchildren; brothers, Chuck, Joe and Bobby; and sisters, Royleen, Bernie and Kim.
He was preceded in death by a brother, Timmy Trottier; and sisters, Laura Love, Georgie Marsh.
There will be a celebration of life announced at a later date.