Posted on
Guard Conducts Screenings At Wolf Point Amtrak Station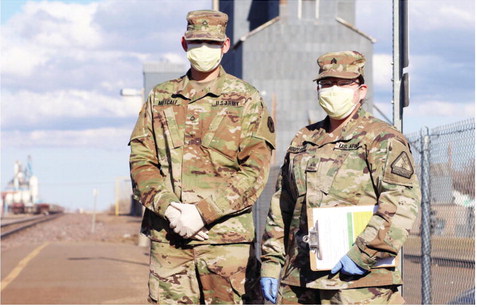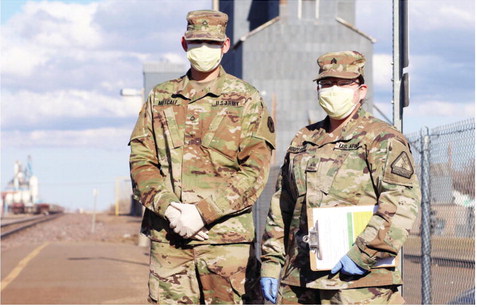 Beginning April 3, members of the Montana National Guard have been screening incoming travelers at train stations in Whitefish, Havre, Shelby and Wolf Point.
They will also have a presence at airports in Bozeman, Billings, Butte, Great Falls, Helena, Kalispell and Missoula.
Seventy-three members of state Air Force and Army National Guard units were activated at the direction of Governor Steve Bullock April 1.
In Wolf Point, two guardsmen have been stationed to meet travelers at each of the incoming Empire Builder trains in the mornings and afternoons.
According to Sgt. Jourdan Hoops-Lovan of Poplar, guardsman are tasked with conducting a series of screening questions, taking temperatures and relaying information to area hospitals and healthcare facilities. All of these services are voluntary.
"We aren't here to force anyone," said Hoops-Lovan. "We're just Montanans helping Montanans."
Hoops-Lovan and PFC Chase Metcalf of Sidney said they have already had two travelers refuse to cooperate with their requests. They added that travel has been light.
Hoops-Lovan said April 6 that the first train of the day had zero passengers disembark at Wolf Point. One passenger got off the eastbound Empire Builder in the afternoon.
Passenger Danny Owens followed Metcalf inside the station, which is currently locked, and submitted to questions about his recent travels and any possible exposure to COVID-19. Hoops-Lovan tested Owens' temperature and he was on his way. The screening took less than five minutes.
Metcalf said he was spending the hours in between trains at a hotel in Wolf Point. Hoops-Lovan works for the Fort Peck Tribes as secretary to Tribal Chairman Floyd Azure.
On March 30, Bullock ordered a 14-day quarantine for travelers arriving in Montana, stating that the directive applies both to Montana residents and non-residents entering the state.
"At the request of the Governor, Montana National Guardsman volunteers are stepping forward across the state to assist in the on-going effort to slow the spread of the COVID-19 virus," said Major General Matthew Quinn, Montana COVID-19 Task Force Leader. "In
Guards On Duty At Amtrak
National Guard members Private First Class Chase Metcalf of Sidney (left) and Sergeant Jourdan Hoops-Lovan of Poplar prepare to screen incoming travelers at the Wolf Point Amtrak station Monday, April 6.
(Photo by James Walling) this time of need, the National Guard team will conduct screening with professionalism and will always treat Montana citizens and visitors with the dignity and respect they are entitled to."