Posted on
Joan Trimble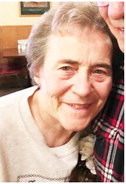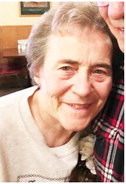 Joan 'JoAn' Faith (McKean) Trimble, 80, died Wednesday, March 25, 2020.
She was born Feb. 18, 1940, to Claude and Muriel (Evans) McKean in Minneapolis, Minn. She and her brother were raised alongside many foster children in their home, which gave her a lifelong love for children. She accepted Jesus as a child, which influenced the course of her life.
She graduated from North High School in Minneapolis, Minn., in 1958, attended St. Paul Bible College (Crown College) in St. Paul, Minn., where she met Ross Trimble, then went to Miller Hospital and earned her LPN in April 1961. She worked in Pediatrics at North Memorial Hospital (Burn Center) in Minneapolis, Minn., until her marriage to Ross on Sept. 22, 1961.
Ross and Joan lived briefly in Glasgow before moving to the family farm north of Wolf Point. They were had four children, Lynette, Stephen, David and Robert.
She loved teaching Sunday school for the youngest children at the Bethel Mennonite Church north of Wolf Point. She kept active supporting her children in their many activities, as well as making hundreds of ear tags for the calves born and raised on the farm/ranch. She loved to bake and always had fresh cookies available.
She discovered a love for painting later in life and created many beautiful works of art, but when her MS was diagnosed, she became the lady who loved to seasonally decorate her walking aids (walker/ wheelchair).
She was preceded in death by her brother, Robert Mc-Kean.
She is survived by her husband, Clair Ross Trimble; a daughter, Lynette Froiland of north Wolf Point; three sons, Stephen Trimble of Wolf Point, David Trimble of Omaha, Neb., and Robert Trimble of Miles City; a foster sister, Lynn Christofferson Gill-Saatela of Plymouth, Minn.; 15 grandchildren; and one great-granddaughter.
A "private" graveside service was held Tuesday, March 31, at the Bethel Mennonite Cemetery, north of Wolf Point. A celebration of life service will be held at a later date due to current health mandates. Due to the recent outbreak of the Coronavirus, public officials have strongly recommended to keep all services to immediate family only. We ask that if anyone is not feeling well to please stay home and get feeling better. We want to make sure everyone is in a safe environment during this time of uncertainty.