Posted on
Governor Issues "Stay At Home" Order, Closures Extended To April 10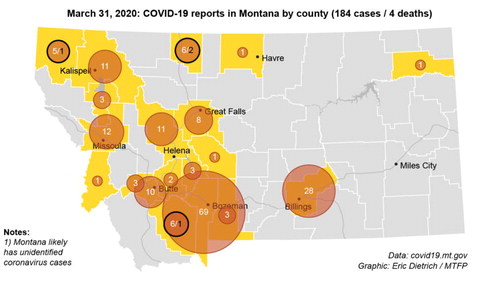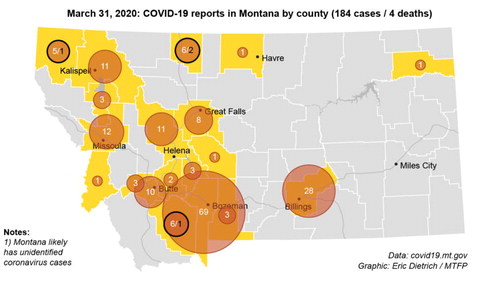 Montana Governor Steve Bullock issued a "stay at home" order Thursday, March 26. The directive went into effect at 12:01 a.m. Friday night, March 27, and remains in effect through April 10 with the exception of essential businesses and operations.
Bullock's directive requires all businesses and operations in Montana, except for essential businesses and operations as defined in the directive, to cease activities. It also prohibits all public and private gatherings of any number of people occurring outside a household or place of residence.
Essential services and businesses were exempted and will remain operational and open, but are required to comply with social distancing guidelines when possible, including maintaining six feet of distance people, having sanitizing products available and designating hours of operation specifically for vulnerable populations.
Bullock issued a directive Tuesday, March 24, extending school closures to April 10.
Monday, March 30, Bullock issued a directive that all travelers entering or returning to the state of Montana should self-quarantine. The directive applies to residents and non-residents entering Montana from another state or country for non-work-related purposes. The self-quarantine should last for 14 days or the duration of the trip, whichever is shorter, the directive said.
Bullock issued a directive Tuesday, March 31, that prohibits eviction and/or late fees on rent and utilities. It also puts residential foreclosures on hold until stay at home order is lifted. Bullock strongly encouraged everyone who could pay rent to pay rent timely.
Many utility companies have voluntarily suspended disconnects prior to the issue of Bullock's directive.
The National Guard will be screening travelers at Montana's major airports by performing temperature checks and screening questions on travelers coming from out of state.
Confirmed COVID-19 Cases
As of presstime, there were 184 confirmed cases of COVID-19 in Montana, which included 14 hospitalizations. Most are treating their symptoms at home. Thirty-two have recovered and have been released from isolation.
As of 8 a.m. Tuesday, March 31, a total of 4,411 tests had been completed.
Montana reported its first COVID-19 death Thursday evening, March 26, a man in Lincoln County. The state's COVID-19-related deaths were five as of presstime and included two from Toole County and one from Madison County. The county of residence of the fifth had not been identified as of presstime.
Williams County in North Dakota reported its first two cases of COVID-19 on Tuesday morning, March 31. Both in men in their 40s. One caught the disease through community spread, meaning the source of the infection was unknown. How the other man caught the disease is still under investigation.
Daniels County Board Of Health
The Daniels County health department is asking that all travelers or workers who are staying in Daniels County and have traveled through areas of confirmed COVID-19 and making Daniels County their temporary or permanent residence call the Health Department at 487-5560 and check in to let the health dept know you are here.
Fort Peck Community College
FPCC has extended campus closure dates until Monday, April 6. Spring 2020 graduation ceremonies have been canceled.
Fort Peck Tribes
According to Fort Peck Tribal Councilman Jestin Dupree, all tribal individuals, not just employees of the Fort Peck Tribes, must adhere to the curfew which runs from 10 p.m. to 5 a.m.
Currently, any Fort Peck Tribes employee that is out on COVID-19-related paid leave that is seen out doing other than essential business will lose their paid leave for the entire pay period.
Also, under the latest directive from Azure, anyone who travels to an area where there is positive confirmation of COVID-19 must immediately self-quarantine for 14 days for the safety of not only our elders.
NEMHS Plans
Northeast Montana Health Services will not be treating serious COVID-19 patients at either hospital. All COVID-19 patients requiring hospitalization will be transferred to other medical facilities elsewhere. NEMHS is requiring anyone who COVID-19
has recently traveled abroad or another state who has a fever over 100.4 or difficulty breathing to call their local provider prior to coming to the emergency room and/or clinic.
Nemont
Nemont has been in regular contact with area school districts in order to better understand their needs as they implement their distance learning plans due to the school shutdowns. As the schools work to implement their plans, Nemont is assisting them with internet access and devices. They are working on deploying additional Public WiFi. In their first wave of device deployments, Nemont distributed Chromebooks to Culbertson, Frazer, and Lustre Schools. They will continue to work with the schools to identify their respective needs and assist where they can.
Valley County Board Of Health Late Friday, March 27, Valley County Health Officer Dr. Anne Millard issued an official health order in an effort to continue community health protections. In the order, Dr. Millard identifies specific direction pertaining to individuals entering Valley County. They include the requirement that "any persons entering into Valley County from outside the county lines and remaining in Valley County shall self-quarantine for a period of fourteen days upon arrival within the county." From the order, "all individuals who
enter Valley County for any length of time are to abide by the 14-day quarantine." When under quarantine, individuals are to remain indoors to the greatest extent possible and limit interactions with others. The order also identifies that persons passing through the county must maintain six feet of separation from other individuals.
TC Energy And Other Contractors Valley County has ordered all new arrivals to self-quarantine for 14 days. The order will also apply to pipeline workers employed by TC Energy who have arrived starting March 26 and to all workers arriving until after the order expires. Several other contractors are also affected by this order.