Posted on
Horsmon Pitches Playground Improvements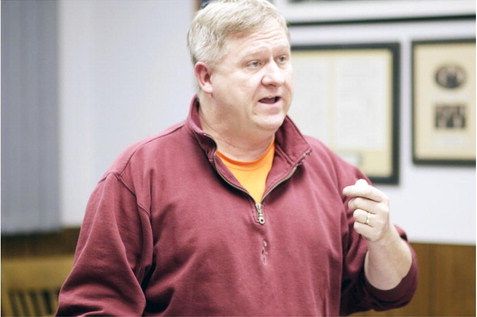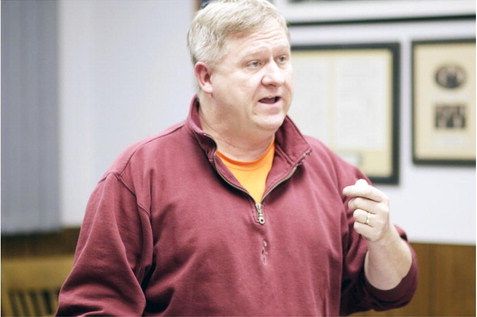 Wolf Point's Dan Horsmon spoke to the Wolf Point City Council about purchasing new playground
Wolf Point Council Promotes Two Maintenance Workers
Horsmon
The Wolf Point City Council held its regular meeting Monday, March 17. Following a moment of silence, Mayor Chris Dschaak opened up the meeting to Frances Hayes, RN, from the Roosevelt County Health Department. Hayes told the council to practice social distancing and careful hygiene. Disaster and emergency services coordinator Lindsay McNabb was also on hand to answer questions.
During the comment period, several members of the public spoke up regarding disconnection issues and rate increases for water at Wolf Point properties.
Jerry Neumiller reiterated his position that the city's cancellation of "snow bird" billing practices for water is unfair. In a paid letter published last week in this paper, Neumiller said, "To get access to the corporation valve [attached to the main water line], an eight foot hole in the street or the alley is needed. The land owner is responsible for all costs, including asphalt on the street. To be reconnected, the city will charge you $1,000 plus you have the cost of digging the hole."
Neumiller concluded his remarks by expressing his frustration as a property owner. "It doesn't pay to invest in Wolf Point," said Neumiller.
Minutes were approved for the Jan. 21 and Feb. 18 regular meetings.
The council approved a rental agreement with the Transportation Security Administration. They will be paying $550 per month for space at L.M. Clayton Airport.
During fire department reports, a payment to the Wolf Point Fire Relief
Neumiller
Association from the Secretary of State of approximately $12,000 was discussed. The payment was made March 5.
The council reported that lot cleanup efforts have been made on Wolf Point's south side. Crews cleaned up one lot owned by the city last week. Three citations have been issued to one property owner currently in violation of city ordinances and an April court date has been set.
According to Wolf Point Police Chief Jeff Harada, 21 letters have been sent to property owners with ordinance compliance issues. Enforcement efforts are ongoing.
A group election form was approved during personnel/policy and wage.
Dustin Darby resigned from the police department, effective March 9.
Chris Noser was approved for promotion to maintenance worker III, effective March 1. Joe Hogan was promoted to sewer maintenance worker III, effective March 1.
Dan Horsmon addressed the council during the recreation committee period. He put forward several proposals for replacing play- ground equipment at Wolf Point's Borge Park. He described the equipment at the park right now as dangerous.
Dschaak thanked Horsmon and said the council will have solid information about financial contributions for purchasing the equipment by the next regular council meeting in April.
The police department's monthly report states that 4,801 miles were patrolled during February. The department has responded to 246 calls to 911 so far this year, an uptick of 61 calls over 2019.
Monthly revenue and securities reports were approved for February.
Dschaak again asked councilpersons and the public to put forward names to fill council vacancies in wards two and four.
The next regular council meeting is set for April 20.