Posted on
Donna Dereschuk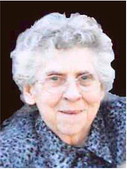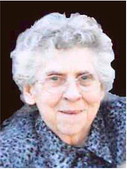 Born in Columbus Junction, Iowa, on March 5, 1933, Donna Kaye Dereschuk was the second of three children born to Walter and Irene Kauffman. Donna grew up on the family farm. In 1952, she relocated to northeastern Montana where she had family working in the oil industry. Shortly after Donna arrived in Montana, she began working for MDU and soon after married and started a family.
Donna was blessed with three daughters and often played old Hank Williams while she danced and sang with her girls and friends. In those years, Donna would refer to herself as a stay-athome mom, but she had may jobs. She was an excellent cook and enjoyed entertaining in her home, especially around the holiday time.
Donna worked many years as a bookkeeper, and her employers and those she worked with knew how hard she worked and how good she was at her job.
A farmer at heart, Donna loved to tend to her flowers and plants and had a deep love for animals. She had a hard persona, but at her core was the salt of the earth and would give the shirt off her back for those she loved.
Donna is survived by her daughter, Nora Johnson; brothers, Gary (Karen) Jeide and Max Kauffman; two grandchildren; one great-grandchild; special friends, Taunya Wasser and Mike Green; and numerous nieces and nephews.
Donna was preceded in death by her daughters, Eve and Kyleen; parents, Walter and Irene Kauffman; sister, Bette Harbison; and brotherin- law, Jack Harbison.
Cremation has taken place and a celebration of life will be held at a later date. Clayton Stevenson Memorial Chapel of Wolf Point has been entrusted with the arrangements.
(Paid Obituary)