Posted on
Bradley Yellow Hammer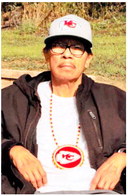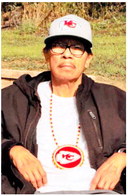 Bradley Eugene Yellow Hammer, "Isnana Ichaga" (Grows Alone), 56, died Feb. 25, 2020, in Des Moines, Iowa.
He was born Feb. 25, 1964, to Carole Spotted Bird and Ronald Yellow Hammer Sr.
He was a loving father with a huge heart who loved to help people. He graduated from Flandreau in 1982. He then became a first-class petty officer and an aerographer's mate in the Navy stationed in Norfolk, Va. He used to go on the powwow trail grass dancing and singing with Eagle Feather. He worked at the casino from 1994-2002. He was an excellent coach to AAU girls' basketball. He also went to Iron Workers School and worked as a heavy equipment operator at Manatts.
He had a large extended family from the Standing Rock Reservation since he was raised there in his younger years until he moved to Montana where he spent his summer moths with his mother's side of the family. He had family and many adopted brothers, sisters from all over and his other family was also from the Meskwaki Nation.
He was preceded in death by a sister, Keva Rose Spotted Bird; and a special grandmother, Nancy (Two Shields) Black Cloud who helped raise him.
He is survived by his daughters, Ashley Davenport of Nebraska and Alana Kapayou of Tama, Iowa; brothers, Errol and Ronald Yellow Hammer Jr., both from Brockton; sister, Tonda White Lance of South Dakota; and six grandchildren.
Funeral services were held Tuesday, March 3, at the Brockton Cultural Center. Interment was at Fort Kipp Cemetery under the direction of Clayton Stevenson Memorial Chapel.