Posted on
Wolf Point 100 Club Hosts Variety Show On Leap Day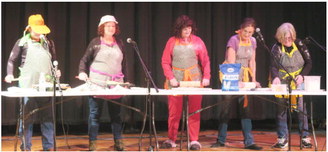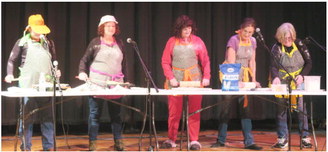 The Wolf Point 100 Club variety show was held in the Wolf Point High School auditorium Saturday, Feb. 29, and entertained the many attendees with music and laughs.
Robert Toavs was emcee for the evening and 100 Club member Cathryn Wylie welcomed everyone to the event.
Among the performers were cowboy poets Robert Toavs and Carol Kelley Hackley; musicians Greg and Chris Holler-Dinsmore, Cassie Solberg, Alex Solberg, the Unruh Sisters Quartet, Tacy Strand, Lindsay Iwen Erickson, Tammy Bartel, Beth Smith and First Baptist Church Praise Team; fourth-grader Dana Buckles playing the piano; Bigger Sky Kids Dance Group; Eastern Montana Gymnastics Team; Trinity Thunder & Lightning Dance Troupe; skits by Doc Z & Company and the Lefse Ladies; and a lip sync challenge featuring NEMHS EMS/nursing staff and the Wolf Point Volunteer Fire Department.