Posted on
Olsen Takes Pie In The Face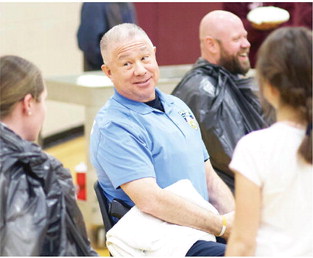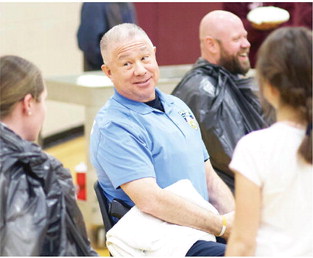 Dschaak, Harada Lead Pack Of Community Members
Northside Elementary School in Wolf Point held its annual "pie in the face" fundraiser Thursday, Feb. 13, at 3 p.m. in the school gymnasium. Students were able to earn raffle tickets to vote for the district staff and community members they most wanted to see turned into targets. They were also able to purchase tickets directly, as were community members.
Staff and community members lined up in the auditorium to accept their fate along with grades four, five and six cheering them on. The pies administered to winning contestants were plain whipped cream.
Northside health enhancement teacher Thomas Olsen beat the rest of the field by a considerable margin. He received 317 votes to lead staff contenders. He was followed by counselor Rilee Perlingiero at 149 votes and fourth-grade teacher Katherine Noser at 120. Christina Smith, fifth grade, received 68 votes and Amanda Baker, fourth grade, received 53 votes. Kayla Larson, fifth grade, received 33 votes, followed by head custodian Emar Eymard at 30. Superintendent Loverty Erickson tied Eymard with 30 votes and Northside principal Georgie Gourneau received 20 votes.
Among the community members participating, Mayor Chris Dschaak squeaked past Wolf Point Police Chief Jeff Harada by one vote with 91 votes total. Fire Chief Clint Bushman received 36 votes, followed by EMS personnel James Wilson and Phynix Lawrence, who shared 30 votes.
"This is a great fundraiser," said Northside teacher Diane Bailey. "The kids really love competing to see who will get a pie in the face." Bailey added that community support and involvement was up this year, thanks in part to strategically placed collection cans. Tickets were 25 cents apiece and collection cans were placed at the Wolf Point Police Department/City Hall, Wolf Point Cafe, Sherman Inn, Old Town Grill and Trinity Hospital.
The annual event raised approximately $280. Staff say the all proceeds will go toward general student expenses at the school.