Posted on
Charles Engelke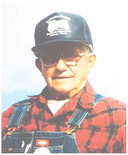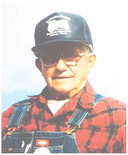 Charles William Engelke, 95, died at LaCasa in Plentywood Feb. 7, 2020. He was born Feb. 16, 1924, to Albert and Lena (Hanson) Engelke, the oldest of three sons. Tragedy struck early in life for Charlie. In January 1933, a fire took the life of his three-year-old brother Donald and critically burned his mother, who died seven days later. In April 1937, his father died of injuries resulting from a fall from a harrow cart pulled by horses. He and his brother Kenneth were raised by John and Olga (Hanson) Miller. He attended grade school at the central consolidated school and graduated from Medicine Lake High School in 1943.
On Oct. 16, 1953, he married Delores Rohrbacker in Denver, Colo. In March 1954, they moved to Homestead. He farmed east of Homestead and did some custom farming. Daughter Connie was born Aug. 4, 1955. Son Donald was born Dec. 20, 1956. In July 1955, they built a home west of Froid. In the spring of 1961, he purchased farmland in Canada, which he farmed in addition to the family farm in Froid. In the 1980s, they built their home in Froid where they resided until the fall of 2017.
He loved going to auctions and tinkering on his old cars and tractors. He was a dedicated member of the Threshing Bee and was also a member of the Northeastern Montana Wagon Train.
He moved to LaCasa in Plentywood and Delores to the Country House in Dickinson, N.D.
He was preceded in death by two brothers, Donald and Kenneth Engelke; daughter, Connie Bracken; son, Donnie Engelke; and grandson, Dusty Engelke.
He is survived by his wife, Delores; two grandchildren; and five great-grandchildren.
Funeral services were held Friday, Feb. 14, at the Froid Community Center with Pastor Tim Hustler officiating. Burial was in the Big Lake/ Homestead Cemetery in Homestead.