Posted on
Will This Be Wolves' Big Year With Late-Season Winning Streak?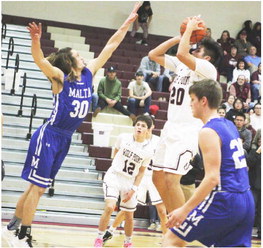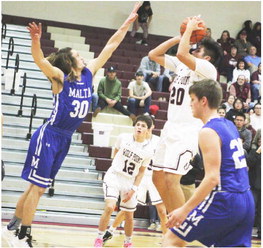 Head coach Troy Blount said, "The Wolves' hard work is paying off" after expanding the winning streak to five straight.
Blount has been building the winning basketball team he has over the past several years he has been at the helm.
The Wolf Point Wolves have climbed from fourth place in District 2B in early January to sole position of second place with less than 10 days remaining in the regular season. Only Harlem leads the Wolves.
The Wolves' last trip to a Class B state tournament was in 2012 and the last time the Wolf Point boys won the state title was in 2011.
The Wolves went into the early-season holiday break 1-0, 2-1 and was 1-1, 3-6 Jan. 17. Wolf Point has won every game since and stand at 5-2, 8-6. The Wolves can boast five straight wins including four conference wins between Jan. 18 and Jan. 30 over Glasgow, Poplar, Harlem and Malta.
Just four games — one District 2B contest and three non-conference — remain on the regular season schedule: at Glendive Thursday, Feb. 6; Baker at Wolf Point, Saturday, Tournament will be in Butte Thursday through Saturday, March 12-14.
Wolf Point 60, Sidney 57 (OT) Sidney 9 10 20 13 5—57 Wolf Point 10 12 17 13 10—62 Malta 56, Wolf Point 29
Malta 15 10 13 18—56 Wolf Point 5 6 6 12—29