Posted on
Poplar Students Head To Big Sky Film Festival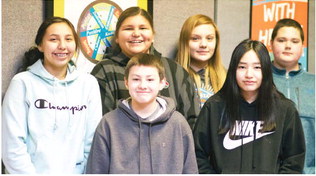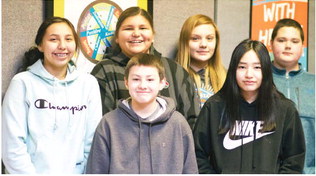 Documentary Features Buffalo Culture, History
A small contingent of Poplar Middle School students will travel to Missoula Feb. 16-18 to attend a screening of a documentary they helped create.
The film, In This Together, We Are One: The Buffalo Unity Project, will screen as part of the Big Sky Documentary Film Festival's Schoolhouse Docs series at the ZACC Show Room in Missoula Feb. 18 at 4 p.m.
Poplar's Rikki Belton, Cetan Growing Thunder, Landon Young, Kessee Erickson, Sarah Russell and Ethan Rankin will be on stage to take questions and help present the film. The group is traveling with Poplar Elementary assistant principal Keith Erickson and PMS English teacher Buck Turcotte, who will join the students on stage.
According to a press release from production partner MAPS Media Institute, the film explores cultural reconnection through the history of buffalo in the region and related Native cultural traditions and practices. Filmed and directed by PMS seventh graders, the film documents a new program on the Fort Peck Reservation that teaches students about the complex, symbiotic relationship between the Assiniboine and Sioux tribes and the American bison. The group's recent efforts culminated in the successful hunt of a reservation bison.
Poplar students participated in a two-week production schedule, handling interviews personally. Belton, Growing Thunder, Young, Erickson, Russell and Rankin said they learned production techniques first hand. Young said the experience has inspirited him to consider film school and a career in the movie business.
The project took shape after a late-night brainstorming session between Turcotte and MAPS Media Institute lab instructor Tahj Kjelland. The pair took their idea to PMS principal Morgan Norgaard, who supported the project immediately and enthusiastically. PMS has provided much of the initial funding needed for the project.
The BSDFF (Feb. 14-23) is one of the premier film events in Montana and the largest documentary film festival west of the Mississippi. Over 2,000 films were submitted as entries this year. The Buffalo Unity Project was one of approximately 100 films chosen for the festival.
Turcotte told the Northern Plains Independent that another film project is already in the works for 2020-21 school year. He said the theme will be related to the unifying aspects of Native games. Keep an eye out for fundraising efforts.
In This Together, We Are One: The Buffalo Unity Project will also screen Thursday, Feb. 20, at the Wilma theater at 1 p.m.
For more information about the festival, visit bigskyfilmfest. org. For more about the MAPS Media Institute, visit mapsmediainstitute. com.