Posted on
Aleta Melbourne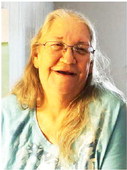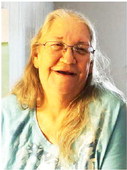 Aleta Ann "Leta" Archdale Melbourne, "Walking Star Woman, died on Jan. 30, 2020, at the Poplar Community Hospital in Poplar.
She was born May 11, 1954, in Poplar to Violeta (Brown) and Frederick Archdale Sr. She grew up in Oswego and attended Frazer High School, graduating in May 1972. She participated in basketball and excelled in track, running the 1200 and 3200 events.
After graduation, she continued to help her parents on the family farm/ranch. She was a true cowgirl and she helped her brothers with haying, feeding the cows and horses and calving. She even knew the basics and more when it came to mechanics. One summer she entered up to ride bareback in the Brockway Dairy Days rodeo.
On top of this, she worked at the Glasgow Air Base for years up until it closed. She was a bartender at "Buck's Bar" in Oswego for a few years and the Fort Peck Senior Citizens feeding site in Frazer. She also worked at the Frazer Headstart as a cook.
She met Manuel "Manny" Melbourne in 1982, moving to Poplar later that year. They married Feb. 13, 1987. To this union, Manny gained a son, Frederick "Boo," and Aleta gained a daughter, Michelle. On Sept. 22, 1985, Monica Annette was born.
She was a stay-at-home mom and her pastime was doing beadwork. Her work is well known throughout Montana. She made many championship event belt buckles for local rodeos and complete regalia including the moccasins for many families. She beaded checkbook covers and her trademark was the porcupine quills in the center. When her eyes could not take the beading anymore, she started to babysit for many families at her home. She and Manny raised one child, Gregory, until he was 13 years old. She then went to work with Debra Bruner who started "Debbie's Daycare" for several years.
The past few years, she received her "food handler" certificate and she started to set up at the flea market that was held every Saturday, serving her famous "biscuits/gravy" and her traditional soups with frybread, a pop/tea, with pineapple upside down cake. People would come from the west and east end of the reservations to enjoy this meal and to visit She loved to visit everyone and share her knowledge of traditional ways. With her death, a lot of this will be lost for very few know of these ways.
She loved to read, do crossword puzzles and cook. She enjoyed the Poplar Wild West Days rodeo and would have a cookout in her backyard for her family and friends. She loved spending time with her grandchildren.
She was preceded in death by her son, Frederick "Boo" Archdale; brothers, Douglas "Dusty," Fred Jr., Donald Wayne and Kermit; and sisters, Darlene Johnson and Sylvia Birdsbill.
She is survived by her husband, Manny; daughters, Monica, Yolanda and Michelle; sister, Annette Linder; brother, Wallace "Beanzie"; and numerous grandchildren.