Posted on
Nellie Silk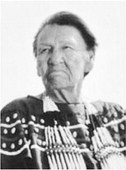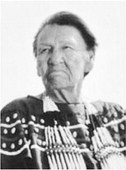 Nellie Silk, Wha Ina Pe Win "Takes Them Out Woman", 87, of Wolf Point, died Jan. 4, 2020, at Trinity Hospital.
She was born March 29, 1932 at the Fort Peck Hospital in Poplar to John and Nancy Follows the Road.
Nellie's mother died when Nellie was nine. She was raised by grandparents Thomas and Mary Long Cloud, "Hunkaiapi" (An Elder) and "Good Pipe Woman". They taught her many of the things important to traditional homes, such as the importance of being good to one another and loving and respecting others.
She also lived in the home of her relatives Grandma Sees End of the Horn and her aunt Elizabeth Greybull of Fort Kipp. She was raised with Maryanne Greybull and Barbara Birdsbill.
She attended school in Brockton and later attended boarding school in Pierre, S.D.
She married Charles Bernard Silk Jr. Dec. 5, 1951, in Fort Yates, N.D. From this union, three children were born, Charles Darryl Silk, Frederick Silk and Janice Nancy Silk. Charles died in 1970.
She moved to Wolf Point in 1964 to babysit and never left. She enjoyed sewing, beading making frybred, wojapi, cornballs and wasna. She was homemaker, grandmother and great-grandmother and advocate for children. She babysat many children and became "Grandma Nellie" to many. She loved participating in the parade every summer having her grandchildren participate too. She always looked forward to attending the Wild Horse Stampede, and it was one of the highlights of her summer as she got older. She often walked around town with a bag in hand, picking up trash. Some days, she would walk five miles. She said, "You have to keep active."
She was baptized into the Mormon Church and was strong in her faith with the Lord.
She was a fluent speaker of the Sioux language and worked with Lanny Real Bird in the translation of the Dakota language with 100 phrases along with the Plains Sign Language. She was always willing to help when asked how to pronounce or translate different words or phrases.
She was preceded in death by her brother, Marvin Bull Chief Sr.; son, Frederick Silk Sr.; grandchildren, Elton Silk, Gloria Silk and Samantha Headdress; and sister/cousin, Maryanne Greybull She is survived by children, Janice Poowegup and Charles Silk Sr.;, and numerous grandchildren.
Funeral services were held Saturday, Jan. 11, at the new Community Hall in Wolf Point. Interment was at Fort Kipp Cemetery. Clayton Stevenson Memorial Chapel was entrusted with arrangements.