Posted on
Poplar Construction Winds Down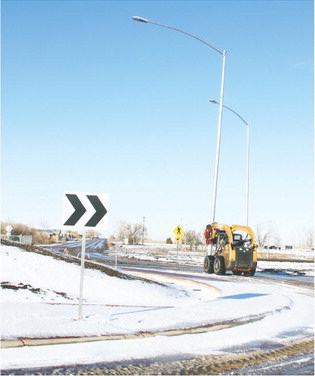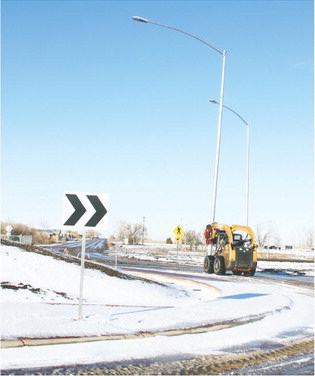 Roundabouts Substantially Complete
Two roundabouts on U.S. Highway 2 in Poplar are substantially complete, just in time for motorists to get the hang of them before winter driving. The roundabouts are part of improvements aimed at enhancing safety and accessibility for all roadway users through the town of Poplar. Work on the roundabouts began this summer and construction is expected to be finalized by spring 2020.
MDT district administrator Shane Mintz said, "Driving in roundabouts might seem daunting at first, but they're really easy to get the hang of. All you have to do is slow down and look to your left, yield to cars and pedestrians in the roundabout and travel counterclockwise around the circle to your desired street."
Because of their design, roundabouts dramatically reduce the frequency and severity of crashes. Those factors combined with the ability to slow down vehicles traveling at high speeds make them a good fit for intersections like the ones in Poplar.
In addition to two new roundabouts, crews worked hard this summer to rehabilitate two miles of roadway surface through the heart of Poplar. Other improvements include a safer school crossing that features curb bulb-outs, pedestrian islands and a flashing visibility beacon. Crews updated sidewalks and corners for ADA accessibility, installed new lighting to improve visibility for all users, and established a dedicated crosswalk near Sixth Avenue East with another flashing beacon.
As this year's construction season draws to a close, here's what folks need to know about the work in Poplar: The Kirn Road roundabout is completely open, so motorists should no longer use the Kirn Road detour. The Fifth Avenue roundabout's south leg will be open this week. The north leg will not be open until next year, because it does not yet connect to a road. This road is planned by the Tribes and will likely be built sometime next year.
Crews are still out and about doing some miscellaneous cleanup safety work for the winter months. Community members should remember that there are some areas where concrete was not poured this season, due to inclement weather. Gravel has been placed as a temporary filler in these areas, but folks should take care to note the slight change in elevation. Crews will work next year to pour concrete and asphalt in the areas that are temporarily filled with gravel. There are some remaining cleanup and landscaping tasks that crews will be working on in the spring as well.
For more information, contact Chris Puyear at 406-4312499, write to [email protected] com or visit mdt. mt.gov/pubinvolve/poplar/.