Posted on
Impromptu Homeless Huts Face Pushback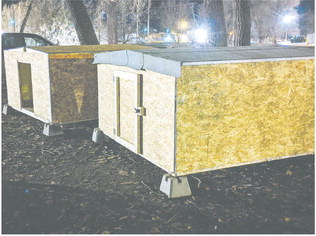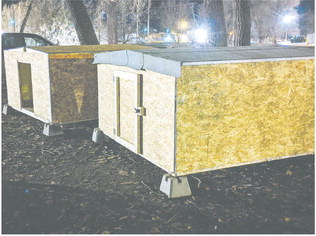 BNSF Files Complaint With Police For Trespassing
Wolf Point's Erik Johannessen took the lead over the weekend in funding and constructing two shelters for area homeless and placed them on BNSF property due east of the underpass downtown.
As of Monday, Nov. 18, three shelters were completed and area homeless had placed a couch at the location. By Tuesday, Nov. 19, local police received an official complaint from landowners.
Wolf Point Police Lieutenant Brian Erwin told the Northern Plains Independent that BNSF representatives have filed a complaint. Erwin said police have notified Johannessen that BNSF needed them to vacate the premises, including any individuals attempting to utilize the structures. Johannessen has been told to remove the shelters.
BNSF told Erwin that the company will be taking steps to clean up the property in the springtime. Plans include tree removal and lot clearing to make the site less hospitable.
Over 50 people donated to an online fundraiser to cover the cost of the structures. At press time, $2,943 had been raised.
Said Johannessen Monday, "Until a permanent solution is developed, I want to make a quick inexpensive solution to the cold winter homeless issue. We have several of our community members out in the cold this winter."
He said Midge Clancy has been collecting coats, hats, gloves and socks and Tara Douglas Ricker has been collecting blankets and sleeping bags. Other volunteers who helped with the structures include Don LaRogue, Matt and Shelica Deserly and Ronikka Kendall. Farmers Union Lumber donated space to build the structures, as well as discounted materials.
According to Erwin, BNSF cited liability and other safety issues when making the complaint.
Following notification of the complaint, Johannessen issued a statement on social media: "We have a PROBLEM. BNSF (The Railroad) has informed the City that they want the huts moved off their land or they will remove them themselves. Keep in mind that they have not had any issue with the people gathering there all this time, with stacks of pallets, furniture, milk crates, and vehicles parked there until NOW. They claim it is on their Right of Way (which is actually already cut off by wooden stakes and metal roping, so there is actually no way for vehicles to enter except by the access road, which the huts are in NO WAY BLOCKING or preventing any access)."