Posted on
Shakespeare In Schools Visits Wolf Point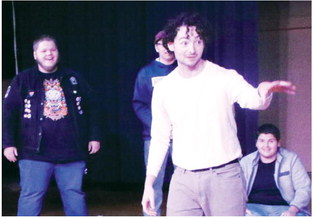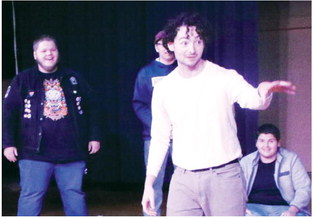 Wolf Point High School students were fortunate to receive a performance from the Montana Shakespeare in the Schools program on Thursday, Oct. 12.
"It's going well. The first week is exciting," program member Brett Garrett said.
During the opening week, the tour visited schools in Bozeman, Sidney, Plentywood, Scobey and Wolf Point. By the end of the year, the actors will have performed in 46 schools throughout Montana and Wyoming.
Wolf Point's students were treated to a performance of As You Like It.
After a lunch break, drama students learned during a workshop with the experienced actors.
Garrett said that Shakespeare in the Schools offers four different workshops with topics including poetry, creating scenes, exploring imaginary environments and portfolios.
November marks the 400th year anniversary of Shakespeare's "First Folio."
The topic in Wolf Point was creating scenes. When asked about the workshop's goal, Garrett said, "To energize the students and get them to breathe life in Shakespeare's text."
He was pleased with the energy of Wolf Point's students. "We're really here to just have fun.'