Posted on
Firefighters Stress Safety To Students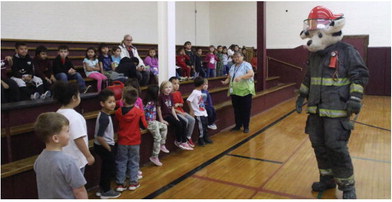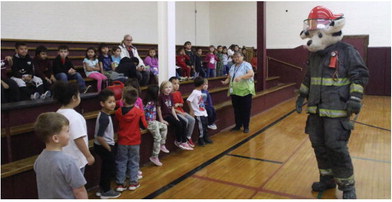 Fire Prevention Week
As part of Fire Prevention Week, members of the Wolf Point Volunteer Fire Department held presentations to elementary students at Southside and Northside schools on Wednesday, Oct. 11.
Southside principal Tara Thomas told her students while introducing the firefighters, "It's one of the most fun and most dangerous jobs in the world."
Training officer Cam Burshia asked students if they had smoke detectors in their homes and where the detectors were located.
"What does it mean when it goes off?" Burshia asked students. They replied, "It's a fire.'
Burshia stressed to students to stay low, crawl and go to the nearest exit when a fire occurs. Also, tell an adult about the fire.
Firefighter Marcus Greene talked to students about the importance of having a fire extinguisher in the home.
"The most important thing is to call 9-1-1 and get out," Greene said.
The firefighters noted that it's a lot easier to prevent fires than to put fires out.
The firefighters, accompanied by Sparky the Fire Dog, displayed the different types of gear they might wear. "Don't be afraid, if you see us," Burshia said.
Fire Prevention Week was observed on Oct. 8-14. This year's national campaign stressed "Cooking safety starts with You. Pay attention to fire prevention." Cooking fires are the leading cause of Home fires and home fire injuries. Unattended cooking is the leading cause of cooking fires and deaths.
Burshia reminded Wolf Point's students to not play with matches. "If you smell smoke, call 9-1-1 and we will get there as soon as we can."