Posted on
Lilley Stays Busy In Sports, NDO Council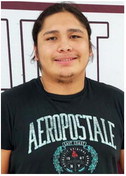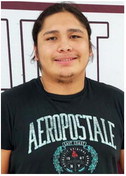 Wolf Point High School senior Lennoxx Lilley likes helping other people, except when it comes to playing on the Wolves' defensive line in football.
"Defensively, I get to hit somebody," Lilley said.
His success this season has included registering a pair of quarterback sacks.
"I was really excited and pumped up," Lilley said of the plays.
Along with being an athlete, Lilley is a member of the Nakoda Dakota youth council. He said it's rewarding helping kids. One of his favorite activities was passing out food to the needy last winter.
Lilley also serves as student representative for Wolf Point's Title VI organization.
Along with football, Lilley also competes in basketball and track.
"I don't really have a favorite sport. I like them all," he said.
In basketball, he helped the Wolves reach the state tournament last season. He is hopeful for more success this upcoming season.
"It's just getting those younger guys ready so we can hopefully do better than last year," Lilley said.
He explains that he has improved his skills during the summer. His experience included playing for a touring team in Germany.
"It was an eye-opener to be in a different culture," Lilley said of the experience.
He laughs that he even ate schnitzel. "It wasn't bad. I would try it again," Lilley said.
On the court, his team lost only one game. That contest was in overtime by two points.
This spring, Lilley will participate in track. He will compete in the shot put, discus and javelin events.
"Being it's my senior year, I thought I minus well do another sport," he said.
In the classroom, his favorite class is band where he plays the trombone.
"We have a lot of memories that we made in there," Lilley said of the band program.
He attended Frontier School in grades K-7, then Poplar for one year before going to school in Wolf Point.
"Most of my friends are here," Lilley said. "The teachers here are good."
He said his role model is his father, Perry.
"He's been my first coach in every sport," Lennoxx said. "He's helped me with all sports since I was 4."
After high school, Lennoxx plans to attend college. He wants to study orthodontics or pre-dentistry.