Posted on
Miller-Toves Serves For Success At School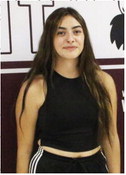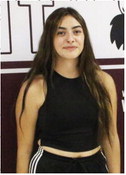 Wolf Point senior Kaleah Miller-Toves has been a standout in two sports for the Lady Wolves during the past few years.
Her favorite sport is tennis where she and doubles' partner Kaylee Johnson placed eighth at the state tournament as sophomores and fourth as juniors.
"It's not as stressful as volleyball is," Miller-Toves said of why tennis is her favorite sport.
She started playing tennis when she was a freshman. "I thought it was going to be a weird sport, so I thought it would be fun," she said. "I got the hang of it right away."
Miller-Toves and Johnson usually get along very well on the court, but Miller-Toves says there can be small problems when she is mad at herself.
"When I'm mad, there's no getting out of it," Miller-Toves answered, "That she knows volleyball well."
Just like in tennis, Miller- Toves has an effective serve in volleyball.
The goal for this season's volleyball squad is to qualify for the state tournament.
Along with sports, Miller- Toves is involved in the National Honor Society.
"I like when we go out and raise money for a cause," she explained.
Her favorite class at school is art class. Some of her best projects are in digital art.
Her favorite educator is guidance counselor Erin Loendorf.
"I can tell her anything," Miller-Toves said.
Miller-Toves has attended school in Wolf Point throughout her life. She likes that students have the opportunity to have job release time. She helps in the office at the Sherman Inn one period each day.
After high school, Miller- Toves plans to study cosmetology in Missoula. She hopes to have her own salon in the future.