Posted on
WPCO Meeting Covers Jail Conditions, Donations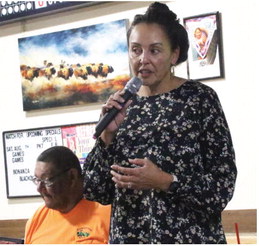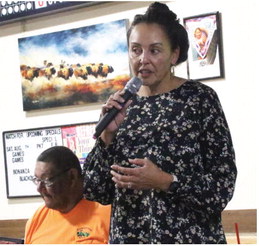 A few audience members expressed concerns regarding conditions at the tribal jail during the Wolf Point Community Organization's monthly meeting on Monday, Sept. 18.
Individuals claimed that inmates are not receiving adequate water and blankets.
WPCO chair Roxanne Gourneau said the goal should be to figure out ways to make the jail better.
"Sharing our concerns is a start," Gourneau said.
During next month's meeting, Gourneau wants people to write down their experiences so the comments can be shared.
"What can we all do to make it better," she said.
Tribal executive board member Lawrence Hamilton said there are a limited amount of guards employed and that some inmates seem eager to attack the guards. Hamilton noted there are two sides to the story.
A report shows that the tribal police had 2,046 calls during the month of August.
It was announced that the Silverwolf Casino received $300,306.78 from the IRS for employee retention credit. The funds were received because the casino kept paying its employees during the COVID pandemic.
WPCO approved $1,500 to purchase food for a TEB candidates forum scheduled for Oct. 17. In addition, WPCO will hold a voter registration campaign from 1 to 8 p.m. on Oct. 8.
WPCO will give 10 $100 gift cards to encourage voting. A drawing will be held after the election to determine the gift card winners.
A request was approved to give the Wolf Point Elks Lodge $500 to purchase shirt, water bottles and snacks for the Elks Hoop Shoot.
After some discussion, members approved giving $2,000 to a parent to purchase snacks and water for Wolf Point's fourth through eighth grade cross country team members for their meets.
Stacie FourStar discussed how well activities sponsored by WPCO were received during the Wolf Point Stampede. She said highlights included the free feed, petting zoo and a concert by singer Terri-Anne Stongarm.
FourStar said if WPCO wants to continue having activities during future Stampedes that a committee should be formed soon. The majority of audience members indicated that they wish to become involved.
Holly Gourneau reported that events planned by JOM for Native American Week on Sept. 25-30 include food tasting at the high school, Tommy Christian speaking at schools, a film on Wednesday and a pow-wow and community feed on Thursday.