Posted on
Field Trip Highlights Bison, Cultural Sites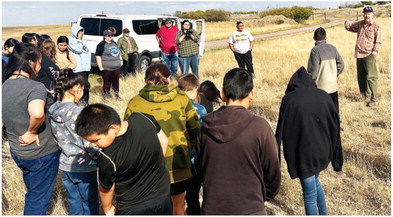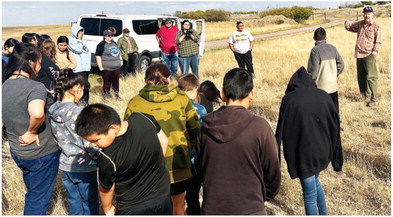 Student groups from Frazer, Poplar and Froid attended the Fort Peck Tribes Language & Culture Department's fall field trip Wednesday, Sept. 13. The group was led by area historian Ed Broaddus, media project coordinator Rich Petersen and Dr. Ramey Growing Thunder, among others.
Beginning at 9 a.m., students and tour participants gathered at L& C's Poplar campus.
Language professor Winona Runsabove took class groups through a short presentation covering traditional names and uses of plants and animals related to the tour. Students from the department participated in tour management and recorded the event.
Stops along the way included Minisdah Presbyterian Church in Chelsea, where a discussion of area history was started, followed by a visit to archaeological sites near Redstone and lunch at the Fort Peck Tribes Buffalo Ranch.
While sharing lunch, Growing Thunder said exposure to the tribes' buffalo herds is a big reason for the fall tour this year.
"This is about bringing them here, exposing them to this." said Growing Thunder.
After lunch, students proceeded north to Scobey for a pit stop and then headed to the heights above Redstone, where Broaddus showed students an Assiniboine cultural site which has produced artifacts dating back hundreds of years.
The remote site required travel along two-track farm roads and over open fields to the edge of cliff known for its populations of birds of prey. Broaddus said the site was rarely visited by students or outside groups.
To learn more about L& C offerings, including Dakota and Nakoda Language classes, visit Wahcinca Wakpa Oyate page on Facebook or call 406-768-3520.