Posted on
Johnson Enjoys Involvement At School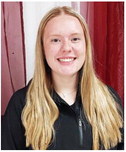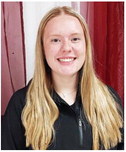 Wolf Point High School senior Kaylee Johnson likes being involved as her list of school activities indicates.
Johnson serves as the student council president, National Honor Society president and senior class vice president.
"I like it," Johnson said of the leadership roles. "If people have ideas, I can bring them to all the different groups."
One of her favorite activities was a food drop, conducted by National Honor Society, which was donated to the local food pantry last school year.
Her caring for the community is a bit of a family tradition. She noted both her grandparents and parents are active in various organizations.
"Since I was little, they brought me with them to meetings," Johnson said. "It made me want to be involved."
The senior is also active in sports where she competes in basketball and tennis. She serves as manager for the volleyball squad.
Tennis is now her favorite sport after first trying it as a freshman. She laughs that she originally thought that it looked like a "weird sport."
"If I could play it all year long, I would do it," Johnson said of tennis. "It relates to me."
Also relating to her is her doubles' partner Kaleah Miller- Toves. The two seniors have played together since their freshman years and placed fourth at the state meet last year.
"It's interesting because we're opposites, but we mesh well together," Johnson said. They get angry for different reasons and at different times. "We can bring each other back," Johnson explained.
They are good friends off the court and that helps for their successful record. "If I didn't like her every day, I probably wouldn't want to play with her," Johnson said. She added this year's goal is winning a state title.
Her favorite class is yearbook. "It's a relaxing class and we can put our creative spin on it," Johnson explained.
Her favorite teacher is Karli McGowan. Johnson feels McGowan is an excellent math teacher.
Johnson is glad that she has attended school in Wolf Point throughout her life.
"It's very community oriented. When something happens, everybody is there," Johnson said.
She plans to the University of Montana and major in physical therapy.