Posted on
Swenson Makes Mark As Wolf Point Senior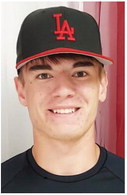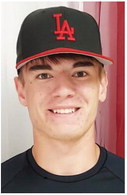 Wolf Point High School senior Preston Swenson moved to the area from Minot, N.D., when he was in the sixth grade and the change has produced a positive result.
"I'm glad that I got closer to my family and made new friends that I hope will last a lifetime," Swenson said.
During his time in Wolf Point, Swenson has been active in the sports of football, baseball and track.
He explains that baseball is his favorite sport.
"It's the game in itself. Just catching and hitting the ball," Swenson said. "It's also building relationships."
He was a standout for the American Legion team based in Froid this summer. He and Wolf Point teammate Gaige Bushman traveled together for practice once a week and then for each of the games.
Swenson said this year's tournament in Minot was the most fun he ever experienced playing baseball. He pitched and played shortstop for the Bulls.
He is hoping to continue his baseball career in college at either Wahpeton, N.D., or Minot State University.
During football season, Swenson serves as strong safety, kicker, punter and receiver for the Wolves.
He received second team All-Conference honors as a kicker last season. His longest made field goal was 36 yards against Colstrip. His longest attempt was 50 yards against Conrad. He was successful on 15 of his 16 conversion kick tries.
Swenson explained that part of the reason for his kicking success was playing soccer when he was younger in Minot.
"My goal is to make a field goal from 50 yards this year," the senior said.
His track events include the 300-meter hurdles, 100meter dash and javelin.
A highlight of last year's track season was being part of Wolf Point's 400-meter relay team that finished first at the divisional meet.
His hobbies include hanging out with family and friends along with weight lifting.
Swenson's favorite teacher is Douglas Evans.
"He is strict and makes sure we get our work done," Swenson said.
His favorite class is English.
Swenson's plans are to major in sports medicine in college to become a sports trainer or manager.