Posted on
Senior Profile Bergum Serves As Leader For Seniors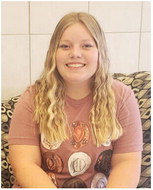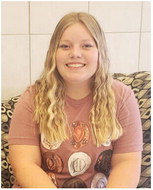 Culbertson's Kylie Bergum is a leader of the school's senior class as she serves as president for both student council and FFA.
"It's really fun," Bergum said of serving as president of the organizations.
Her duties as student council president include conducting meetings and doing morning announcements.
This year's senior class features 13 students.
"It's nice to have a smaller class. You get to know each other better," Bergum explained.
FFA is her favorite activity. "I live on the farm and I love agriculture," she explained. "FFA is one big family."
She has qualified for the state competition in horticulture in each of the past three years. Her favorite competition is livestock judging, and Culbertson's team just missed qualifying for state last year.
Other activities include speech and drama and golf. She qualified for the divisional tournament in golf last spring.
As far as speech and drama, Bergum qualified for the state meet in memorized public address. Her topic was three favorite or important phrases.
She plans to compete in memorized public address again this school year. A possible topic is Paul Harvey's "So God Made A Farmer."
In the classroom, her favorite subject is English. She explains she loves reading new books. Her favorite teacher is Dave Solem. "He makes everything fun and I enjoy it."
She is proud to be a student in Culbertson. "The community is so supportive," Bergum said.